Silver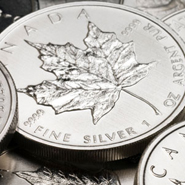 If you don't like gold as a hoarding option, consider silver. It has a much more practical use as currency in a world where paper money is worthless, since a small coin would be worth $20 instead of $2,000. How are you supposed to barter for a bit of food or water if that's the minimum purchase? Silver, like gold, is seen as a hedge on hyperinflation, too.
And like gold, silver has rolled back from record highs in recent years — almost $50 an ounce for a brief moment in 2011 and now about $33. However, it also has tripled since 2005.
An added bonus: Silver actually has some practical uses beyond luxury goods, including antibacterial properties. So while you can't eat gold, using silver to eat with might actually be good for your health — and if you're living in the bush when society falls apart, that could be a plus.