The hunt for bond proxies is in full swing – but how good are these untested replacement players?
A 100% dividend-only income stream is the goal of any responsible "no withdrawal" retirement portfolio. Which of course is superior in every way to the fatally flawed 4% retirement myth, but difficult to achieve in a world where payout yields have been bid down towards 2%.
Fortunately, there are still a few promising pockets for income investors. I'm talking about yields of 6% to 8% plus upside. We'll review them in a minute – but first, let's make sure we avoid the high-risk low-reward traps.
Consumer "Staples" are Dangerous Reaches for 2-3%
Long term, I'm concerned that the dividend aristocrats of today will become the dividend disasters of tomorrow. For now, I worry that investors are buying high – and will eventually be forced sell low.
Why sell ever?
Because payout percentages have been bid down to almost-meaningless levels. Take SYSCO Corporation (SYY), Kimberly Clark Corp (KMB) and Campbell Soup Company (CPB) – profits have been grinding sideways, yet yields are just off five-year lows:
Making a Dividend-Only Income Stream Impossible
When a million bucks won't even fetch $30,000 in dividends, you'll be forced to sell stock to compliment your income. Problem is, these stocks have rich price-to-earnings (P/E) ratios:
Nosebleed P/E Ratios for "Staples"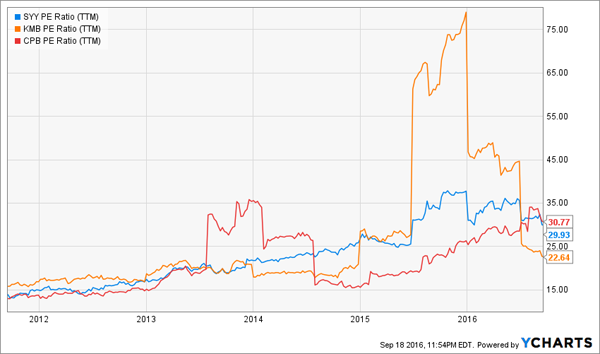 I say staples tongue-in-cheek because many consumers are now falling in love with someone other than their favorite brand, calling into question the breadth and depth of these (probably) overrated competitive moats. Odds are these P/Es will be lower when you need to sell, which means you'll fall victim to reverse dollar cost averaging.
Remember the benefits of dollar cost averaging that built your retirement portfolio? This is the same phenomenon, but in reverse!
At sub-3% yields, moats or not, consumer staples simply aren't going to provide enough income. At P/E ratios above 25, they are dangerous to your capital.
Let's move on to a slightly better alternative.