Top Micro-Cap Stocks to Buy for 2017: Microvision (MVIS)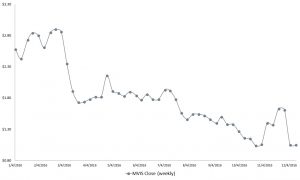 Click to Enlarge Plenty of micro-cap stocks deserve the bad rap that's associated with the sector. However, one of the reasons to consider smaller organizations is that innovation can sprout from anywhere.
It's not unusual to see "Global 500" companies incorporate technologies that were originally advanced by lesser-known names. Such firms can focus on one or two specialties, whereas larger outfits would have trouble profiting from narrow projects.
This is the benefit of owning shares of Microvision, Inc. (NASDAQ:MVIS). MVIS is the inventor of the PicoP scanning system, which is an "ultra-miniature laser projection and imaging solution" based off the company's earlier laser beam platform. One of the benefits of the PicoP system is state-of-the-art graphic visuals. It's caught the attention of Sony Corp (ADR) (NYSE:SNE), which uses it across an array of high-end consumer electronic products. The next step for MVIS is incorporating PicoP in self-automated driving.
Although the technology is proven and exciting, MVIS has had a rough go at it in the markets. That's unfortunate, because it doesn't reflect improving fundamentals such as revenues that already have surpassed last year's — and that's with a quarter to go!
MVIS is a gamble. However, if power players like Sony is willing to play ball, Microvision deserves a second glance.