Real estate investment trusts (REITs), when picked carefully, provide generous dividends that will fund your retirement cash flow needs by themselves.
Today I'm going to show you how REITs are literally the best buy-and-hold asset you can put your money into – and I'll introduce you to three powerful real estate plays yielding up to 7.8% annually. These three are well positioned for decades of outperformance against the rest of the investment world.
We all know that REITs are income machines. First-quarter 2017 data shows that REITs on average yielded 4.1% — more than double the average S&P 500 stock!
But many self-annointed "REIT gurus" focus too much on income and ignore REITs' other outstanding virtue: growth potential. You see, REITs are becoming an increasingly large cog in America's (and the world's) real estate machine.
The days of small mom-and-pop building owners are numbered – REITs are increasingly gobbling up apartments, malls, medical centers, golf courses, datacenters and self-storage!
Thus, REITs aren't just delivering big, fat dividend checks – they're delivering capital gains, too, The result has been a total return performance that has outstripped every other holding in retirement-focused portfolios.
Pension fund analysis and benchmarking servicer CEM Benchmarking delivered a study examining the returns of REITs and 11 other asset classes for more than 200 pension funds. This chart tells you everything you need to know: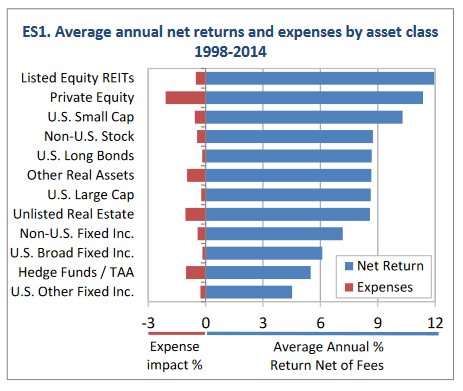 Source: CRM Benchmarking
Bonds, large-cap stocks and even private equity shops were unable to outdo publicly traded REITs, which delivered average net returns of 12% annually to pension funds. Which REITs are ready to return 12%+ in the years ahead?
Here are three to consider with 6.3% to 7.8% current yields and 15% to 20% price upside to boot: