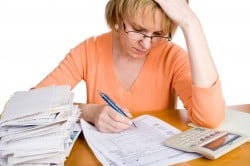 Stock market investing tips are good for any season. But now that spring has sprung, and with the warmer weather — and looming tax deadline — it good investment advice to take some time and roll up your sleeves sooner rather than later.
Any investing tips that advocate you throw out your entire portfolio aren't wise, and aren't practical. Spring cleaning doesn't necessarily mean cleaning house. However, it is a good idea for every investor to at least take that nest egg down from the shelf and give it a good once-over with a dust rag. The stock market is a crazy place and even buy-and-hold investors need to assess their holdings regularly to ensure they are protecting their money and maximizing their returns.
So allow me to suggest five simple spring cleaning tips to spruce up your portfolio:
1. Check Your ETF & Fund Fees
Though easily overlooked, the fees or expense ratio of your mutual funds and ETFs can really eat into your profits over the long haul. Consider this case study: Investor A puts $1,000 a year in a fund with a 1% expense ratio, which returns 10% annually. Investor B puts $1,000 each year in a fund with a 0.5% expense, which also returns 10% annually. At the end of 20 years, Investor A has about $51,100 and Investor B has about $54,100 after adding compound interest and subtracting fees. That's $3,000 — or about 5% total difference — just based on a lower fee! If you have the ability to get a similar flavor and performance in a lower-fee fund, you should take it. It will save you money over the long haul.