4. Rebalance Your Holdings
Building a portfolio is part art and part science. But it's important to acknowledge that your investments are living things and will change over time. Let's say your strategy is to put 25% of your cash in fast-moving small-cap stocks and 75% in stable blue chips. Out of a $50,000 nest egg, that's $12,500 and $37,500, respectively. Now let's say your specific large-cap investments averaged about 10% last year — but while you didn't do too well picking blue chips, you knocked it out of the park with some small-cap biotechs and tech stocks and averaged 50% returns for the smaller group. The total value of your holdings is now $18,750 in small caps and $41,250 in blue chips, or a 32% to 68% split.
If you want to let that money ride in small caps, that's your choice — but you should at least acknowledge that your overperformance in aggressive small-cap plays has skewed the focus of your portfolio. If you're uncomfortable with that prospect, it's time to "rebalance" your portfolio by selling off some of the aggressive stocks and moving the money back into blue chips.
5. Organize Your Financial Paperwork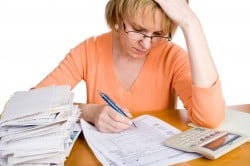 This last step is the easiest of all, but a crucial one especially when it comes to year-end tax documentation. If you're like me, you take your brokerage statements and letters from your 401(k) provider and just shove them in a drawer somewhere — sometimes without even opening the envelope. It's crucial to organize your paperwork if for no other reason than to ensure you have all your documentation for the IRS. It's also important to protect your account information. Make sure you file the information away in a safe place or shred documents you don't want to keep around.
Oh, and it also might be worth your while to read everything before you stick it in the filing cabinet to make sure your broker or fund manager hasn't done something sneaky such as increasing fees on your account.
Jeff Reeves is editor of InvestorPlace.com. As of this writing, he did not own a position in any of the stocks or funds named here. Follow him on Twitter via @JeffReevesIP and become a fan of InvestorPlace on Facebook.