This Chart Shows Microsoft Stock is a Steal at $25
by Ed Elfenbein | April 15, 2011 6:39 am
If you're looking for a good stock to buy, I just noticed that there's some sort of software outfit in the Seattle area. Here's a look at Microsoft's ($MSFT[1]) stock and its EPS line.
The stock line is in blue and if follows the left scale. EPS is in gold and it follows the right. The two lines are scaled at a ratio of 15-to-1. The forward earnings represent Wall Street's consensus for Microsoft stock.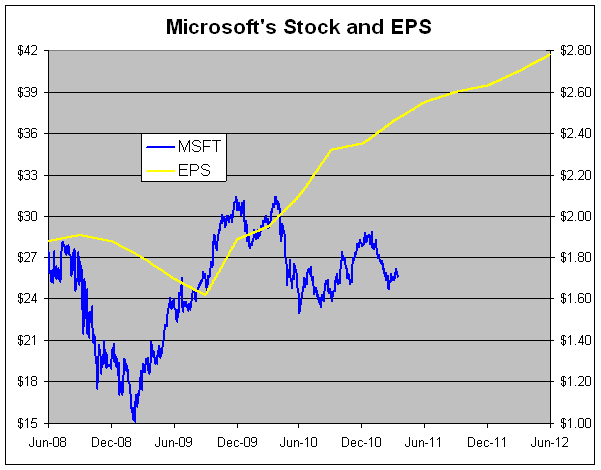 Microsoft is currently expected to earn $2.63 per share in this calendar year which means the stock is trading at about 9.6 times this year's estimate.
The S&P 500 is expected to earn 96.69 this year which means it's trading at 13.5 times this year's estimate. That means Microsoft (NASDAQ: MSFT[2]) is going for a 29% discount to the market's valuation.
On top of that, MSFT stock is holding $4.76 in cash which generates almost no income. This means that the "operations" assets of Microsoft are probably going for around eight times earnings.
Microsoft stock looks cheap.
Ed Elfenbein is editor of Crossing Wall Street, a Web site about stocks and the market designed to help individual investors. Check out his free Buy List[3] of stock recommendations.
Endnotes:
$MSFT: http://stocktwits.com/symbol/MSFT
MSFT: http://studio-5.financialcontent.com/investplace/quote?Symbol=MSFT
Buy List: https://www.crossingwallstreet.com/buylist.html
Source URL: https://investorplace.com/2011/04/microsoft-nasdaq-msft-stock-value-investing/
Short URL: http://invstplc.com/1nF7rsk
---