Seagate After Earnings: Are Hard-Drive Stocks a Buy?
by Jeff Reeves | April 19, 2012 6:00 am
Back on March 23, technology analyst Mark Miller of Noble Financial gave a very bullish take on disk-drive manufacturers[1]. The crux of his argument: The risk of seasonality and hardware evolution are overstated, and companies such as Seagate (NYSE:STX[2]) and Western Digital (NYSE:WDC[3]) are set to break out.
Seagate seems to have proven Miller right: On Tuesday, it reported that fiscal third-quarter profit surged from just $93 million to $1.14 billion (yes, billion) thanks to much better margins. And revenue almost doubled.
The shares are up about 13% in the last five trading days, including a gap up Wednesday of over 5%.
Western Digital is set to report earnings on Thursday, April 26, and could follow suit. Shares of WDC also tacked on 5% Wednesday in anticipation of similar results.
Both WDC and STX are up against 52-week highs. Will they continue to run up?
I got back to Mark Miller to get his take, and his feeling is that they both will indeed move higher. Noble just upped its estimates for both of these picks a few weeks ago.
Of particular interest is WDC before its earnings announcement.
"Seagate indicated the drive-shipment range in the March quarter was 140-145 M units, which was above Street expectations of 130-135 M units," Miller said via email Wednesday. "Seagate came in unit-wise at expectations, 60.7 M , so most of the upside in unit shipments this quarter went over to Western Digital/HGST. Thus, I expect significant upside to consensus in the WDC report."
Broadly, he also points to bigger-picture trends in favor of disk-drive makers:
Benefits of industry consolidation — past consolidation events have raised margins by up to 350 basis points.
Increased shipments leveraging operational efficiencies.
Shipments of enterprise drives for Western Digital and Seagate's ramp up of eight new lower-cost products.
And lest you think solid-state or flash-memory drives are replacing conventional hard disks due to a shift in technology, Miller shared this chart from IDEMA. As you can see, projections show no slowdown in demand.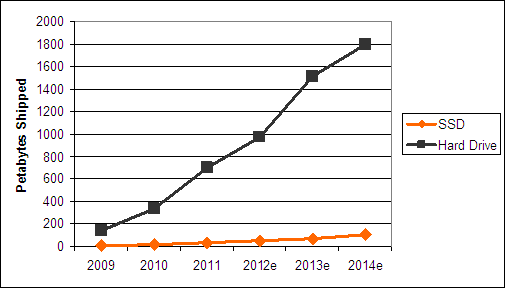 [4]
Why? For starters, flash manufacturers can't add capacity fast enough to take significant share from hard drives. Then, of course, there's the higher cost of flash memory, which means the "old" hard-drive technology will still have a role to play in lower-cost electronics.
Besides, even as the share of flash memory grows, overall demand for disk drives is so great that a slightly smaller piece of the pie won't matter much to Seagate or WDC.
"Market studies show that tablets, which typically contain just 64 GB or less of NAND flash storage, are only cannibalizing about 20% of potential drive sales," Miller said. "So for 80 million tablet shipments, that comes to 16 million lost drive sales — or about 2% of total projected drive shipments for this year."
It may be intimidating to see WDC up 33% year to date and STX now up 78% after its post-earnings pop. But when you look at the data, it appears that there may still be room for gains in hard-drive stocks despite the run-up — and despite some of the negativity out there.
Mark Miller owns Seagate shares. Follow his firm Noble Financial Capital Markets on Twitter @NobleFinancial[5].

Jeff Reeves[6] is the editor of InvestorPlace.com, and author of "The [7]Frugal Investor's Guide to Buying Great Stocks[8]." Contact Jeff at editor@investorplace.com[9], connect with him on Google+[10] or follow his Twitter account, @JeffReevesIP[11].
As of this writing, Reeves did not own a position in any of the aforementioned stocks.
Endnotes:
a very bullish take on disk-drive manufacturers: https://investorplace.com/2012/03/tech-guru-disk-drive-stocks-wdc-stx-are-bargain-buys/
STX: http://studio-5.financialcontent.com/investplace/quote?Symbol=STX
WDC: http://studio-5.financialcontent.com/investplace/quote?Symbol=WDC
[Image]: https://investorplace.com/wp-content/uploads/2012/04/diskdrives1.bmp
@NobleFinancial: https://twitter.com/#!/NobleFinancial
Jeff Reeves: https://investorplace.com/author/jeff-reeves/
The : http://www.amazon.com/dp/B007KB9CSI/ref=rdr_kindle_ext_tmb
Frugal Investor's Guide to Buying Great Stocks: http://www.amazon.com/dp/B007KB9CSI/ref=rdr_kindle_ext_tmb
editor@investorplace.com: mailto:editor@investorplace.com
Google+: https://plus.google.com/117872140326273160848/posts
@JeffReevesIP: http://twitter.com/JeffReevesIP
Source URL: https://investorplace.com/2012/04/seagate-are-hard-drive-stocks-a-buy/
Short URL: http://invstplc.com/1dcsycE
---