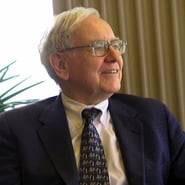 Berkshire Hathaway's (NYSE:BRK.A, NYSE:BRK.B) Warren Buffett says he won't buy shares in the Facebook IPO. The reason is simple: He doesn't know how to value the company.
Social networking is still in the early phases, and the industry has seen several blow ups already, such as Friendster and MySpace. There are also new rivals like Google's (NASDAQ:GOOG) G+ and Pinterest.
However, this doesn't mean Buffett stays away from tech companies. Consider that he plunked down more than $10 billion for a stake in IBM (NYSE:IBM). But then again, it's a company with a long track record and has traded within normal valuation metrics (the stock is currently at about 15 times earnings).
Buffett still prefers to focus on companies that are major staples for consumers. These include Coca-Cola (NYSE:KO), Johnson & Johnson (NYSE:JNJ) and Kraft (NYSE:KFT). They may not be exciting but they have been able to produce nice returns over the long haul.