The Return of Financial Dividends
by Ed Elfenbein | June 19, 2012 2:30 pm
Dividends are slowly making a comeback, and they're even returning to the financial sector. Thanks to the TARP program, many financials firms weren't allowed to pay dividends, or they cut them down to a trivial amount.
Companies like JPMorgan (NYSE:JPM[1]) have recently broken out and improved their dividend, and now the Financial Sector ETF (NYSE:XLF[2]) just paid out its June dividend of 6.8 cents per share. That's a 28% increase over the 5.3 cents from one year ago. This is still well below the peak when the XLF regularly paid out more than 20 cents every quarter.
Profits are returning and so are dividends. If all goes well, I think the XLF could pay out 30 cents per share this year. At $15, that's a yield of 2% which is lower than many stocks. However, the XLF has the ability to increase its dividends at a rapid clip for the next few years.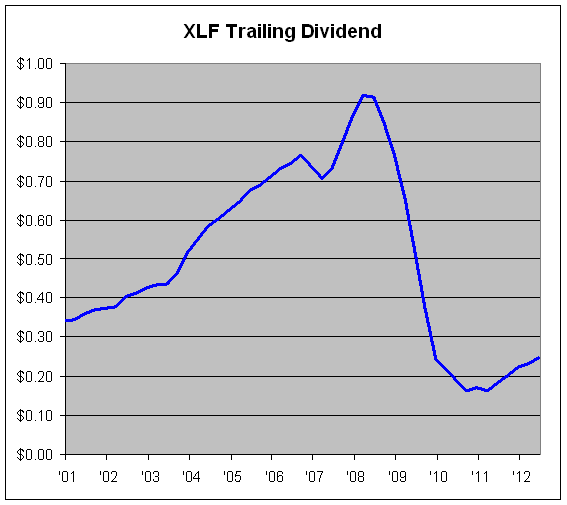 [3]
Endnotes:
JPM: http://studio-5.financialcontent.com/investplace/quote?Symbol=JPM
XLF: http://studio-5.financialcontent.com/investplace/quote?Symbol=XLF
[Image]: https://www.crossingwallstreet.com/wp-content/uploads/2012/06/image1254.png
Source URL: https://investorplace.com/2012/06/the-return-of-financial-dividends-xlf-jpm/
Short URL: http://invstplc.com/1fGrTof
---