Gold Got You Down? Here Are 5 Hard Asset Alternatives
by Alyssa Oursler | July 31, 2012 8:15 am

Gold has had a tough 2012 thus far[1] — its weakness has continued into the second quarter and isn't expected to fade in the third[2]. The metal's middling is especially notable considering its success over the past decade.
Prices are still hovering around $1,500 to $1,600 in the past couple months (they sit at $1,620 as I write this) — a drop from the $1,900 high during last year's "gold rush."
For more proof of the little yellow metal's woes, just look at the SPDR Gold Trust (NYSE:GLD[3]), which has dropped nearly 6% in the past six months and is about flat for the year.
Warren Buffett, for one, has never been a fan of gold[4], because it can't actually be used for anything. As he explains:
"(Gold) gets dug out of the ground in Africa, or someplace. Then we melt it down, dig another hole, bury it again and pay people to stand around guarding it. It has no utility. Anyone watching from Mars would be scratching their head."
Nevertheless, gold historically has been a hedge against inflation and a safe haven during times of panic, making it a valuable part of many diversified portfolios. But, unless you're an Olympic athlete, there's no reason you have to always go for the gold. In fact, there are other ways to diversify your holdings away from gold while staying in rock-solid hard asset investments.
Gold Alternative #1: Platinum

Platinum sure can't face the same criticism from Buffett. A third of its annual output goes to industry — for everything from dental to medical devices — while another third goes to automobile parts — more specifically, catalytic converters.
But such a focus on the auto industry also explains why the metal hasn't been looking so hot as of late. Platinum prices have been falling and currently are hovering around $1,400 compared to a six-month high around $1,700 and a $1,900 high in the past year.
Automotive sales have been on the rise in recent months, but carmakers still are facing struggles[5] thanks to economic woes at home and abroad. Right now, for example, the average car in the U.S. is 11 years old — and without the demand for new cars, there also isn't demand for parts like catalytic converters. But that can't last forever. In fact, vehicle production is expected to increase by about 60% by 2020. And diesel engines, which rely most heavily on platinum catalysts, have seen sales begin to grow[6], and more diesel products are expected to be introduced because of such recent success.
So, just as there was money to be made as platinum rebounded from the crushing it (and the auto sector) took during the financial crisis — it dropped two-thirds of its price in 2008, then rose 150% for the next three years — expected growth in automotive demand could present a similar opportunity.
Platinum, like gold, can be bought in bars and coins, but also through ETFs like the ETFS Physical Platinum Shares (NYSE:PPLT[7]). PPLT is slightly up year-to-date after shedding much of its early 2012 gains, as it moves in lockstep with the metal.
Gold Alternative #2: Palladium

Palladium doesn't have gold's widespread appeal and can be volatile, but it also is useful — especially in electronics, from computers to smartphones to LCD TVs.
The metal was red-hot during the dot-com boom, jumping from $100 per ounce to more than $1,000 per ounce in five years. But the tech bubble burst, and the metal dropped to around $200. The stock has regained quite a bit of ground since then, but has been on a downward trend over the past year.
Since palladium's usefulness ties to broader economic and tech trends, the eurozone's woes and lack of U.S. consumer spending have hurt demand. It has dropped nearly $300 from its 2011 highs in the $800s, though at $550, it still is doing significantly better since the financial crisis.
The ETFS Physical Palladium Shares (NYSE:PALL[8]) has been hit hard in the past 52 weeks, off nearly 30% in that time.
Primarily palladium miners are another option. However, the primary U.S. play, North American Palladium (AMEX:PAL[9]), is nearly 60% in the red for the past year. Also, Real America Index[10] member Stillwater Mining (NYSE:SWC[11]) is a leading platinum group metals miner[12], so it mines both platinum and palladium. This means it could boom in the future, especially considering that worldwide supplies for PGMs are under pressure, though SWC also has had a rough past year, down more than 40%.
Still, despite all palladium's recently struggles, technology isn't going anywhere. And as long as there is demand for gadgets, there should be demand for palladium — and that'll improve when consumers get some more money in their pockets.
Gold Alternative #3: Silver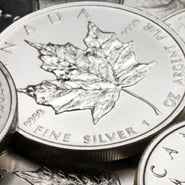 Just like its yellow counterpart, silver has seen phenomenal gains over the past few years — it was trading around just $8 five years ago, but has since reached highs of $48.
Also like gold, silver has dropped off recently. Silver is trading at $28 today, and hasn't broken $30 in months.
Still, physical silver at least has actual currency potential if you truly believe the dollar will become worthless — platinum and palladium, not-so-much. Not to mention, silver has a number of industrial and medical uses. Plus, if QE3 is around the corner[13], that could help the metal, too.
The easiest way to play pure silver (short of going out and buying physical silver bars yourself) is through ETFs. The iShares Silver Trust (NYSE:SLV[14]) and smaller ETFS Silver Trust (NYSE:SIVR[15]) are a pair of pure-play funds that hold silver bullion, and move almost identically with each other.
For a less direct play, Silver Wheaton (NYSE:SLW[16]) and Pan American Silver (NASDAQ:PAAS[17]) are among several popular silver mining stocks. Just remember: Miners are businesses, so there's a lot more to trading them than just watching the rise and fall of silver itself.
Gold Alternative #4: Rare Earth Metals


Now for a little change of pace. Rare earths don't come in bar or coin form. Instead, rare earth metals are appealing because of their use in electronic devices — everything from space-age gear, lasers, superconductors and X-ray machines to flatscreen TVs, hybrid cars and even Apple's (NASDAQ:AAPL[18]) popular iPhone. You get the point.
Like with palladium, if you think the future will continue to be high-tech, rare earths are in play. Consider that, in the past 10 years, the amount of rare earth metals used per year has tripled, and is expected to continue increasing. Some estimates contend[19] production must grow by more than 60% to keep pace with demand, or else we will face a huge shortage.
As is the case with other metals, trading rare earths has its pitfalls.
For one, there is no easy index or futures market since the category includes more than a dozen different elements. A few ways to play rare earths include American producers Molycorp (NYSE:MCP[20]) and Rare Element Resources (AMEX:REE[21]), as well as Australian firm Lynas Corp. (PINK:LYSCF[22]) — all three have been halved or worse in the past year, though REE enjoyed a massive rebound early in 2012, but has been trending down since.
But another issue is the vast majority of rare earths are found in China, so the country more or less pulls the global market's strings — a huge source of uncertainty. However, the World Trade Organization has brought new attention[23] to China's export restrictions on rare earths, which could turn things around for the sector.
Gold Alternative #5: Copper

You don't have to roll thousands of pennies to get in on copper — although you could. The metal has a few things going for it: affordability, liquidity, flexibility. Plus, it's a good conductor or electricity, so you can find it in everything from electronics to pipes in your home.
Yes, copper is much more of a staple than the metals found in fancy gadgets — an industrial recovery simply cannot happen without it. And with homebuilder confidence on the rise, on top of lower supply and rising demand, copper could be on its way up[24] — despite the fact that China, the metal's biggest customer, still faces slow near-term growth. Copper hit multiyear highs around $4.50 a year ago, but has since dropped off by about $1.
One option to play copper is the iPath Dow Jones-UBS Copper Subindex Total Return SM ETN (NYSE:JJC[25]) — unlike the other trusts, though, JJC doesn't actually hold copper; as an exchange-traded note, it's instead a debt security that merely tracks the price of copper. The fund is down a little more than 1% year-to-date, and saw a bigger hit over the entire past year. The PowerShares DB Base Metals ETF (NYSE:DBB[26]) is divided evenly between copper, aluminum and zinc, and has moved similarly to JJC in the past year.
Miners are another way to play copper. Options include Southern Copper (NYSE:SCCO[27]), as well as diversified miners Freeport McMoRan (NYSE:FCX[28]) and Teck Resources (NYSE:TCK[29]).
As of this writing, Alyssa Oursler did not own a position in any of the aforementioned stocks.
Endnotes:
a tough 2012 thus far: https://investorplace.com/2012/07/5-worst-mutual-funds-so-far-in-2012/view-all/
isn't expected to fade in the third: https://investorplace.com/2012/06/gold-looks-no-better-for-q3-than-it-did-in-q2/
GLD: http://studio-5.financialcontent.com/investplace/quote?Symbol=GOLD
has never been a fan of gold: https://investorplace.com/2012/05/why-warren-buffett-hates-gold/
still are facing struggles: https://investorplace.com/2012/07/4-takeaways-from-june-auto-sales/
sales begin to grow: http://seekingalpha.com/article/273030-soaring-sales-of-diesel-cars-support-higher-platinum-prices
PPLT: http://studio-5.financialcontent.com/investplace/quote?Symbol=PPLT
PALL: http://studio-5.financialcontent.com/investplace/quote?Symbol=pall
PAL: http://studio-5.financialcontent.com/investplace/quote?Symbol=pal
Real America Index: https://investorplace.com/real-america-index/montanas-stillwater-mining-a-platinum-coated-future/
SWC: http://studio-5.financialcontent.com/investplace/quote?Symbol=SWC
platinum group metals miner: https://investorplace.com/real-america-index/montanas-stillwater-mining-a-platinum-coated-future/
QE3 is around the corner: https://investorplace.com/2012/07/talk-of-qe3-hoists-gold-silver/
SLV: http://studio-5.financialcontent.com/investplace/quote?Symbol=slv
SIVR: http://studio-5.financialcontent.com/investplace/quote?Symbol=sivr
SLW: http://studio-5.financialcontent.com/investplace/quote?Symbol=slw
PAAS: http://studio-5.financialcontent.com/investplace/quote?Symbol=paas
AAPL: http://studio-5.financialcontent.com/investplace/quote?Symbol=AAPL
Some estimates contend: http://www.mineralnet.co.uk/Article/2451120/Rare-earth-shortage-projected.html
MCP: http://studio-5.financialcontent.com/investplace/quote?Symbol=mcp
REE: http://studio-5.financialcontent.com/investplace/quote?Symbol=ree
LYSCF: http://studio-5.financialcontent.com/investplace/quote?Symbol=LYSCF
brought new attention: https://investorplace.com/2012/06/rare-earth-investors-china-decides-when-you-get-to-eat-mcp-ree-avl-lyscf/
copper could be on its way up: https://investorplace.com/2012/07/4-ways-to-play-a-rebound-in-copper/
JJC: http://studio-5.financialcontent.com/investplace/quote?Symbol=jjc
DBB: http://studio-5.financialcontent.com/investplace/quote?Symbol=dbb
SCCO: http://studio-5.financialcontent.com/investplace/quote?Symbol=scco
FCX: http://studio-5.financialcontent.com/investplace/quote?Symbol=fcx
TCK: http://studio-5.financialcontent.com/investplace/quote?Symbol=TCK
Source URL: https://investorplace.com/2012/07/gold-got-you-down-heres-5-hard-asset-alternatives/
Short URL: http://invstplc.com/1nxidAO
---