Top 10 Most Stolen Vehicles in 2011
by Angela Nazworth | August 21, 2012 4:47 pm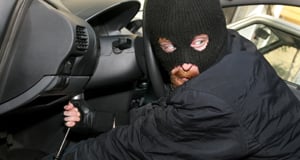 [1]Not since 1967 have occurrences of vehicle theft been as low as reported in 2011.
According to data released Monday from the National Insurance Crime Bureau[2] (NICB), preliminary 2011 FBI crime stats show a 3.3% decline of vehicle thefts from the 737,142 incidents recorded in 2010.
While fewer cars are being illegally lifted, auto theft is still an issue. NICB compiled a list of the 10 most-stolen vehicles in the United States. Ford (NYSE:F[3]), Dodge, General Motors (NYSE:GM[4]) Honda (NYSE:HMC[5]), Toyota (NYSE:TM[6]) and Nissan (PINK:NSANY[7]) all have vehicles on the list.
Here's a look at the 10 most stolen automobiles in 2011.
1994 Honda Accord
1998 Honda Civic
2006 Ford Pickup
1991 Toyota Camry
2000 Dodge Caravan
1994 Acura Integra
1999 Chevy Pickup
2004 Dodge Pickup
2002 Ford Explorer
1994 Nissan Sentra
More information about the study can be obtained at the National Insurance Crime Bureau's website.[8]
Endnotes:
[Image]: https://investorplace.com/wp-content/uploads/2012/08/CarTheft.jpg
National Insurance Crime Bureau: https://www.nicb.org/newsroom/nicb_campaigns/hot%E2%80%93wheels
F: http://studio-5.financialcontent.com/investplace/quote?Symbol=F
GM: http://studio-5.financialcontent.com/investplace/quote?Symbol=GM
HMC: http://studio-5.financialcontent.com/investplace/quote?Symbol=HMC
TM: http://studio-5.financialcontent.com/investplace/quote?Symbol=TM
NSANY: http://studio-5.financialcontent.com/investplace/quote?Symbol=NSANY
National Insurance Crime Bureau's website.: https://www.nicb.org/newsroom/nicb_campaigns/hot%E2%80%93wheels
Source URL: https://investorplace.com/2012/08/top-10-most-stolen-vehicles-in-2011/
Short URL: http://invstplc.com/1fttnC9
---