A Rally Is Coming … Just You Wait and See
by Ed Elfenbein | October 26, 2012 11:30 am
"The future will soon be a thing of the past." – George Carlin
For the last few weeks, I've warned investors to invest defensively, believing that we're headed for rough waters. Well, that's exactly what has happened. Last Friday, the S&P 500 had its worst drop in four months, and it closed just below its 50-day moving average. As I pointed out last week[1], the S&P 500 almost perfectly formed a Triple Top—three success tops. That technical signal made the bears a lot more confident, and the selling continued into this week. The S&P 500's loss on Tuesday was nearly as bad as Friday's. Then on Wednesday, the market closed at a seven-week low.
Stocks Are Poised for a Rally—But Not Yet
While Wall Street suffered its worst setback in a few months, I think stocks are prepping themselves for a strong year-end rally. The skies, however, aren't clear just yet. Once the election passes and the problems in Spain begin to fade, I think the S&P 500 will make a run at its five-year high.
One of the reasons for my optimism is the nature of the recent sell-off. Cyclical stocks normally fall the most when the market drops. This time around, they've fallen the least. In fact, the Morgan Stanley Cyclical Index (INDEX:CYC[2]) outperformed the S&P 500 for eight days in a row (they finally lost on Thursday). This suggests that the economy continues to improve, albeit in an unsteady manner.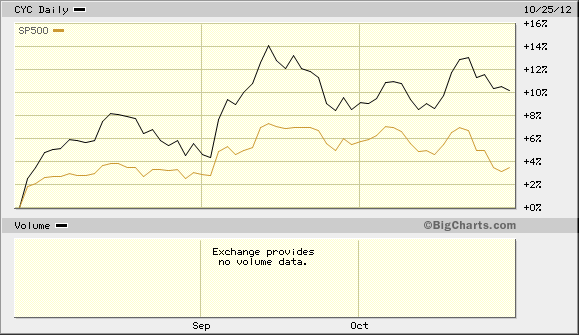 [3]
Just this past week, we got a good report on orders for durable goods[4], plus jobless claims fell by 23,000[5] and new home sales rose to a two-year high[6]. The Federal Reserve met this past week, and their policy statement noted that the economy continues "to expand at a moderate pace[7]." The Fed said that household spending is up and the housing sector is improving. This is all good news.
Wall Street continues to be focused on earnings, while I've been more concerned with guidance. The third-quarter earnings season has been mostly good, but there have been some notable weak spots. The earnings "beat rate" is running at 71%, which is decent, but the revenue miss rate is at 61%. This tells us that profit margins are still being stretched.
One of the most ignored stories on Wall Street this year is that volatility has plunged. In fact, this has been one of the biggest volatility fades on record. Earlier I mentioned how the market's drop last Friday was the worst in four months. If that loss had happened last year, it would have been the 31st worst.
But now traders are getting nervous again. The Volatility Index (NYSE:VIX[8]) has rallied quite strongly over the last week. Options players have especially been crowding into higher volatility bets. The VIX actually flirted with "backwardation[9]" a few days ago. I think some of this is due to uncertainty about the election. That's understandable. But volatility can work on the upside as well. Investors want to see the uncertainty get cleared up. It almost doesn't matter if the news is good or bad; they just want resolution.
The important thing for us is that the numbers are still in the stock market's favor. Analysts have been trimming their earnings forecasts for Q4, but the Street still expects earnings growth for the S&P 500 of 12.1%. I wouldn't be surprised if that's soon in the upper single digits. For 2013, analysts expect earnings of $114.30 for the S&P 500. That would be an increase of 13% over 2012. The index currently trades at 12.36 times next year's earnings, which is quite reasonable.
When traders get nervous, they move toward safety and quality. Before, investors were afraid of anything but the most secure assets. Now, however, the market is more open to higher-quality stocks.
Endnotes:
As I pointed out last week: https://www.crossingwallstreet.com/archives/2012/10/cws-market-review-october-19-2012.html
CYC: http://studio-5.financialcontent.com/investplace/quote?Symbol=CYC
[Image]: https://www.crossingwallstreet.com/wp-content/uploads/2012/10/big.chart102512a.gif
orders for durable goods: http://www.marketwatch.com/story/durable-goods-orders-rebound-in-september-2012-10-25?link=MW_latest_news
jobless claims fell by 23,000: http://www.bloomberg.com/news/2012-10-25/jobless-claims-in-u-s-drop-as-seasonal-volatility-winds-down.html
new home sales rose to a two-year high: http://www.washingtonpost.com/blogs/where-we-live/post/new-home-sales-jump-to-2-12-year-high-in-september/2012/10/24/a6b1e494-1de1-11e2-b647-bb1668e64058_blog.html
to expand at a moderate pace: http://www.federalreserve.gov/newsevents/press/monetary/20121024a.htm
VIX: http://studio-5.financialcontent.com/investplace/quote?Symbol=VIX
backwardation: http://blogs.wsj.com/marketbeat/2012/10/23/vix-briefly-flirts-with-backwardation/
Source URL: https://investorplace.com/2012/10/a-rally-is-coming-just-you-wait-and-see-cyc-vix/
Short URL: http://invstplc.com/1nziXVX
---