4 Attractive Biopharma Stocks of All Sizes
by Susan J. Aluise | November 14, 2012 11:25 am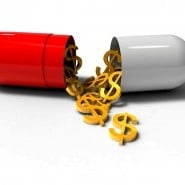 The late Dr. Carl Sagan once said, "Advances in medicine have saved vastly more lives than have been lost in all the wars in history." They've also managed to create some serious wealth for drug companies and their investors.
One of the hottest segments of the drug market is biopharmaceuticals — drugs created by using living organisms like viruses, bacteria, DNA or other molecules. Today, there are more than 300 such drugs on the market — and 20% to 25% of all drug approvals in the U.S. are produced via biotechnology. IMARC Research estimates global biopharma sales will top $166 billion by 2017[1].
However, risk goes hand in glove with reward in biopharma: Only 3 in 10 drugs that enter clinical trials actually gain market approval. Not to mention, while some larger biopharma companies have several treatments (and thus several revenue streams), some smaller firms' fates might rest on a solitary drug, making them a much bigger gamble.
Thus, this sector is largely a bet on future success, not current performance. Your trading strategy, time horizon and risk threshold will determine whether it's best to stick with mega- and large-cap names, make a targeted bet on a micro cap with a breakthrough therapy, or diversify within the sector.
With that in mind, here are four hot biopharmaceutical stocks of different sizes that could change your world (and fill your pockets):
Mega-Cap: Novartis

Market Cap: $145 billion
Novartis (NYSE:NVS[3]) has been on a pretty good roll in recent weeks: An FDA advisory panel last week unanimously recommended the company's Signifor to treat Cushing's disease — a rare but debilitating condition that produces tumors. Signifor is the first treatment to target the disease and could become the only non-surgical option for these patients.
Novartis has a strong biopharma pipeline that could produce as many as 14 blockbuster drugs over the next five years[4]. The heart-failure drug Serelaxin is among the most promising. A clinical study of 1,161 patients released last week found Serelaxin, which eases stress on the heart by relaxing blood vessels, reduced acute heart failure deaths by a whopping 37% — apparently without dangerous side effects. Deutsche Bank analysts say the heart failure drug potentially could account for $2.5 billion in annual sales.
While Novartis' already large size means you likely won't see eye-popping gains in a short time off a single drug approval, the company offers stability, including in the form of dividends. NVS has increased its payout annually for the past 15 years, and currently yields a juicy 4% in dividends, with plenty of cash to back those checks.
Large-Cap: Gilead Sciences


Market Cap: $55 billion
Shares of Gilead Sciences (NASDAQ:GILD[5]) set a new 52-week high this week on positive clinical trial news. Gilead revealed that combining three oral medicines — sofosbuvir and daclatasvir and the generic antiviral ribavirin — into a single pill cured 100% of hepatitis C patients by week four of the 12-week trial. Those results stole the thunder from other players in the space, including Abbott Laboratories (NYSE:ABT[6]) and Vertex Pharmaceuticals (NASDAQ:VRTX[7]).
Most biopharma drugs target rare conditions, but the market for hepatitis C drugs is huge. The liver disease affects more than 3 million patients in the U.S. and an estimated 180 million worldwide. Although GILD's combo trial only involved 25 patients, cure rates on other therapies average between 40% and 79%; many have significant side effects.
Gilead also has a strong HIV drug franchise — including the just-approved four-drug HIV therapy Stribild, which helped boost the company's third-quarter revenue by 14%[8].
Normally I'd worry about buying a stock that's risen 81% in the past year and just set a new high, but I think GILD's strong HIV and hepatitis C franchises position it to be a high-growth gazelle over the next 12 to 18 months. The company also is financially sound, running at an operating margin of 44% and boasting levered free cash flow of $3.4 billion. That said, you might be able to get a better bargain in December after the exuberance over the trial has faded.
Small-Cap: Vivus

Market Cap: $1.1 billion

Vivus (NASDAQ:VVUS[9]) seems like an unlikely choice for a bullish stance given its wider-than-expected third-quarter loss (40 cents per share vs. 10 cents a year ago).
Chalk it up to slower-than-hoped-for sales of the company's anti-obesity drug, Qsymia. Limited insurance coverage and high co-pays have lowered the number of prescriptions actually filled. Also, the European Medicines Agency cited safety concerns — particularly cardiovascular effects — in recommending against EU approval for the drug last month.
But I'm playing the contrarian on VVUS for several reasons.
First, the government's "War on Drugs" is being supplanted by its "War on Obesity"[10] — and that pressure is bound to motivate insurers to boost coverage of drug therapies under "Obamacare." It doesn't hurt that Qsymia has shown promise as a treatment for obstructive sleep apnea[11] — a dangerous condition that can cause breathing interruptions while sleeping, and can raise an individual's risk of early death[12].
VVUS is a more speculative bet, as the financial metrics bear out. It has negative earnings and cash flow, and it's spending a ton of money on marketing for Qsymia. To paraphrase Shakespeare, Vivus is "not for all markets" — investors really need to believe that Qsymia will ultimately kick down the barriers for new obesity drugs, lay to rest safety concerns and vanquish competitors like Arena Pharmaceuticals' (NASDAQ:ARNA[13]) Belviq.
After a roller-coaster ride, VVUS is trading back at levels it last saw right before Qnexa was green-lighted by an FDA advisory panel. I see it as a bargain.
Micro-Cap: NovaBay


Market Cap: $41.3 million
Tiny NovaBay (NYSE:NBY[14]) might represent the best growth opportunity of them all with its breakthrough immune-system mimicker, NVC-422. The bacteria-killing compound — which is not an antibiotic — acts like the human immune system to seek and destroy invading organisms.
In culture tube experiments, NBY's proprietary Aganocide compounds killed every bacteria, fungi, yeast — and even virus — against which they were tested. The company says Aganocide compounds have a good safety profile and are particularly effective against bacteria or fungal strains (like the dangerous staph germ MRSA) that are resistant to multiple drugs.
In September, NovaBay received $2.6 million from dermatology firm Galderma, with whom it is partnering on a treatment for the contagious skin infection, impetigo. NBY also is developing an eye-drop formulation of NVC-422 for adenoviral conjunctivitis, a highly contagious eye infection for which there is no acute treatment. Singapore-based Pioneer Pharma recently invested $2.5 million in NBY in a deal that gives it the right to market the latter's NeutroPhase wound-cleaning product in China and Southeast Asia.
NBY's financial metrics have the typical characteristics of a bleeding-edge micro cap — the company lost $5 million last year on $11 million in revenues. But the growth opportunity is substantial if you don't mind the risk.
As of this writing, Susan J. Aluise did not hold a position in any of the aforementioned securities.

Endnotes:
will top $166 billion by 2017: http://www.businesswire.com/news/home/20121004005697/en/Research-Markets-Global-Biopharmaceutical-Market-Report-Forecast
Compare Brokers: https://investorplace.com/options-trading/broker-center/
NVS: http://studio-5.financialcontent.com/investplace/quote?Symbol=NVS
as many as 14 blockbuster drugs over the next five years: https://investorplace.com/2012/11/novartis-touts-pipeline-of-blockbuster-drugs/
GILD: http://studio-5.financialcontent.com/investplace/quote?Symbol=GILD
ABT: http://studio-5.financialcontent.com/investplace/quote?Symbol=ABT
VRTX: http://studio-5.financialcontent.com/investplace/quote?Symbol=VRTX
boost the company's third-quarter revenue by 14%: http://www.nasdaq.com/article/update-gilead-sciences-revenue-jumps-14-helped-by-hiv-drugs-20121023-01560#.UKK45-Rm6WE
VVUS: http://studio-5.financialcontent.com/investplace/quote?Symbol=VVUS
"War on Obesity": http://www.cnbc.com/id/49810996
treatment for obstructive sleep apnea: http://finance.yahoo.com/news/vivus-says-qsymia-ingredients-help-212559837.html
can raise an individual's risk of early death: http://www.reuters.com/article/2009/08/18/us-sleep-death-idUSTRE57H0CP20090818
ARNA: http://studio-5.financialcontent.com/investplace/quote?Symbol=ARNA
NBY: http://studio-5.financialcontent.com/investplace/quote?Symbol=NBY
Source URL: https://investorplace.com/2012/11/4-attractive-biopharma-stocks-of-all-sizes/
Short URL: http://invstplc.com/1fofpRY
---