401(k) Balances Reach Highest Level in 12 Years
by Christopher Freeburn | November 8, 2012 10:34 am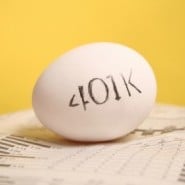 [1]Americans are seeing their retirement savings grow. Fidelity Investments, the largest manager of 401(k) accounts, announced on Thursday that the average 401(k) account grew 4% during the third quarter[2].
The average 401(k) account balance rose to $75,900 at the close of the quarter, up from an average of $72,800 at the end of the second quarter. That was highest average balance in the twelve years that Fidelity has tracked 401(k) results, the Associated Press noted.
Employees contributed more of their earnings to their retirement accounts last quarter. Average annual contributions have risen 7% over the last five years.
While many employers stopped matching worker 401(k) contributions during the financial crisis, that is recovering as the economy stabilizes, a Fidelity representative said.
401(k) accounts have also benefited from a rebounding stock market. The average account balance has grown 64% since 2009, when the major market indices were down sharply compared to their 2007 highs.
Endnotes:
[Image]: https://investorplace.com/wp-content/uploads/2010/10/iStock_000002553617XSmall-e1287685513523.jpg
during the third quarter: http://www.google.com/hostednews/ap/article/ALeqM5gazmil3KqfRn2zX9uC7V-hyMIgZQ?docId=d5a19b487d7c4802a8a9e2e989d14c16
Source URL: https://investorplace.com/2012/11/401k-balances-reach-highest-level-in-12-years/
Short URL: http://invstplc.com/1nypMHt
---