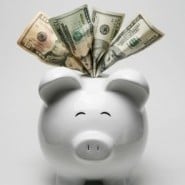 Chasing yield can be a dangerous thing.
My favorite truism about the market is that the quickest way for a CEO to get his stock's dividend yield from 3% to 6% is to mismanage the company and watch its share price get cut in half. After all, a number of nominally "high-yield stocks" have burned investors this year with big declines — or worse, big cuts to those dividends once they become unsustainable.
However, it's undeniable that a large part of the investing public simply can't get enough of yield right now — and if you can find a sexy small-cap name that might deliver big share price appreciation on top of that, all the better!
So here are a few small-cap stocks (under $5 billion in market cap) with big dividends (yields north of 5%) that could be worth a look — and further research — from interested investors:
Park National

Dividend Yield: 5.9%
Market Cap: $980 million
Park National Corp. (AMEX:PRK) is a small banking company focused in the Midwest. One of my first jobs after college was at the newspaper down the street from Park National's headquarters in Newark, Ohio, and I can tell you firsthand this bank is a point of great hometown pride.
Unfortunately, it hasn't been without troubles in the wake of the financial crisis. PRK had to restate earnings for its full-year 2011 report, and recently created a wholly owned subsidiary to deal with its glut of bank-owned properties. Furthermore, in October, PRK's net income dropped almost 13% year-over-year, with its community banking division seeing a nearly 10% decline. Even more disturbing is that through Q3 it was 22% behind 2011 numbers.
However, there are signs of life lately. The restated earnings for 2011 actually came in better than expected, the company's big dividend remains sustainable at a roughly 70% payout ratio, and if you believe that housing has hit bottom, then Park National will continue to improve its balance sheet. If you doubt the improvement, just bring up a list of insider transactions — 10 PRK directors have added to their personal stake since Oct. 21.
If you're looking for a turnaround bank stock with big upside potential, Park National is worth a look. The huge dividend is a big hedge even if shares move sideways for a bit.
SeaCube

Dividend Yield: 6.6%
Market Cap: $367 million
As the name implies, Seacube Container Leasing (NYSE:BOX) is in the business of leasing and re-leasing containers on a diverse group of shipping lines. I like this pick because unlike some of the shippers that are exposed directly to the volatility in pricing, Seacube only leases the actual containers to third parties.
Of course, anyone who remembers the painful crash-and-burn in shipping stocks at the end of 2008 should know this investment is hardly risk-free. Infamous bulk carrier DryShips (NASDAQ:DRYS), which eliminated its dividend and remains down 97% from pre-crisis pricing, is proof positive of this.
But reports seem to indicate that dry-bulk rates are starting to rise once more after a horrible four-year slump. At least as measured by the Baltic Dry Index that measures commodity shipping costs, rates appear to be edging up after a 40% drop in the index through the end of October.
This is a very volatile play both on the share price side and the dividend. However, grabbing the tiger by the tail can pay off once in a while — Seacube is up 22% year-to-date, while DryShips is 13% in the red and other shipping stocks are looking even worse. Top that off with a dividend that has increased five quarters in a row, and you have a pretty compelling case for taking a stab on a shipping rebound. The company is soundly profitable and the dividend is sustainable at a roughly 60% payout ratio.
And most recently, the company just posted a 30% increase in its Q3 net income, with a nearly fully booked 97.9% utilization rate of its equipment. That bodes well for the future.
Also of note: BOX goes ex-dividend Wednesday, Dec. 5.
Aircastle

Dividend Yield: 5.9%
Market Cap: $776 million
What if you could invest in airline stocks and get a 6% dividend for the trouble? Well, that's the shtick with Aircastle (NYSE:AYR), a company that leases almost 150 commercial and passenger airlines worldwide.
Aircastle is a lot like BOX in that it's an end-around on conventional stocks in the sector. By simply leasing airplanes to others, it doesn't have to deal with the direct impact of ticketing and baggage prices, fuel costs or freight rates.
A secular recovery in the economy would result in more leasing demand as more travelers and packages take to the air, so Aircastle could benefit big-time from this trend without the downside risk of oil prices gutting profits. Aircastle reported a 99% utilization in its most recent quarter, with lease rental revenue up 12%. The company posted a pretty big loss, however, on impairment charges of 15 older aircraft, but that didn't stop Aircastle from boosting its dividend 10%. It still has a very low payout ratio of about 30%, indicating another dividend hike is a real possibility in 2013.
Also noteworthy is that the company also has been aggressively buying back shares, with around $120 million spent in the last 18 months. That's a big chunk of change for a company this size.
Sinclair Broadcast Group

Dividend Yield: 5.2%
Market Cap: $940 million
Sinclair Broadcast Group (NASDAQ:SBGI) is a television station owner that serves roughly 45 markets across the United States. Some small-cap dividend chasers might remember the name painfully, after it eliminated its dividend in 2009, then reinstated it at roughly half the payout back in 2011 — but at current valuations, SBGI could be a buy.
Why mess with a TV broadcaster in this digital age of Apple (NASDAQ:AAPL) iPads and smartphones? Well, because the lion's share of its stations include major networks such as Fox, ABC, CBS and NBC. These are hardly going to disappear from living rooms anytime soon, even if you can watch some of the shows online.
Furthermore, after posting a loss in 2008 and 2009, the restructured Sinclair seems to have hit its groove. The company saw a big jump in Q3 profits thanks to political spending, but also has improved its EPS in every single quarter this year compared with 2011 numbers.
Revenue admittedly is stagnant, but the dividend is sustainable at a 50% payout ratio on these numbers.
The big question, of course, is whether there is growth ahead for Sinclair. Maybe not — but with a forward P/E of around 9 and the hope of a secular recovery to boost advertising, it might not take a lot to move shares higher in 2013.
Regal Entertainment


Dividend Yield: 5.5%
Market Cap: $2.4 billion
In February, I highlighted Cinemark Holdings (NYSE:CNK) as a top small-cap investment to buy for the big dividend … and since then, shares are up more than 30% on a share price basis alone!
I'm going back to the well on theater stocks this time around, picking smaller operator Regal Entertainment (NYSE:RGC) that operates about 6,600 screens in the U.S.
The movie industry might not be booming right now, but investors seem to be catching on to the potential of these companies should a broader recovery transpire and boost spending. Furthermore, a few high-octane 3D flicks for summer 2013 — including Iron Man 3 — could mean bigger margins.
There are risks here — including the idea that theaters just aren't as attractive to consumers in this age of premium in-home entertainment options. Since peaking in 2002, total box-office admissions have declined in eight of the past 10 years, resulting in a total decline of 20%. But box-office revenue is up 12% over that period, for whatever that is worth.
Like television, I remain convinced that the familiar "old media" appeal of cinemas will never die despite a digital surge. After all, radio is still a viable form of communication — why write off everything but streaming just because you like your iPad?
That said, I leave you with one final consideration …
A Final Note
Personally, I think chasing yield in small caps is a misplaced endeavor. If you want yield, go for yield and stability in investment-grade bonds or blue chips. If you want capital gains, pick a company that invests extra capital in itself and finds big growth that way.
A marriage of the two strategies is like mixing a cheeseburger with chocolate cake — the two things work great independently, but poorly together.
But hey, if you're making money with this strategy, then who am I to argue?
Jeff Reeves is the editor of InvestorPlace.com and the author of "The Frugal Investor's Guide to Finding Great Stocks." Write him at editor@investorplace.com or follow him on Twitter via @JeffReevesIP. As of this writing, he owned a long position in Apple but none of the other stocks named here.