6 Great Things Warren Buffett Already Owns
by Dan Burrows | December 20, 2012 7:30 am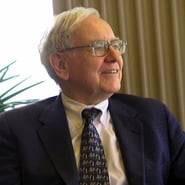 Think you have a hard time shopping for the folks on your own Christmas shopping list? At least you don't have to come up with gift ideas for Warren Buffett.
After all, what do you get for the man who has a net worth of $46 billion but still lives in the same house he bought back in 1958 and favors hamburgers and Cherry Cokes for lunch?
Simple tastes aside, Buffett, of course, can afford anything he wants. Worse yet: His company, Berkshire Hathaway (NYSE:BRK.A[1], BRK.B[2]), already owns pretty much anything else you could get for him.
In addition to sizable stakes in everything from Wells Fargo (NYSE:WFC[3]) to IBM (NYSE:IBM[4]), Berkshire controls or owns outright more than 50 companies as subsidiaries. From chocolates to underwear to cutlery, Berkshire comprises a wide swath of potential stocking-stuffers.
So, anyone shopping for Buffett this holiday season should keep in mind that through Berkshire, he already has access to an amazing range of things, including …
See's Candies

Don't bother buying the Oracle of Omaha a Whitman's Sampler. Berkshire has owned See's Candies for decades. The California confectioner makes everything from truffles to toffee to fudge — and holds the Guinness World Record for the world's largest lollypop.
Dairy Queen

Don't try to treat Buffett to a meal or tasty frozen treat, either. Berkshire already owns Dairy Queen, meaning the billionaire more than gets his fill of burgers, Blizzards, Buster Bars, Chillers and, yes, Orange Julius, too.
Ginsu Knives

It's hard to imagine that Buffett does much of his own cooking, but if he does feel like whipping up something in the kitchen, he should have access to all the cutlery he needs. Through Berkshire's acquisition of Scott Fetzer Co., it owns that staple of late-night informercials: the never-needs-sharpening Ginsu knife assortment.
Fruit of the Loom

Boxers? Briefs? Why not both? Berkshire Hathaway bought iconic underwear-maker Fruit of the Loom out of bankruptcy a decade ago, so Buffett presumably has all the unmentionables he needs. And forget about getting him a jockstrap, either. Fruit of the Loom bought the Russell sporting goods company a few year later.
Borsheims, Helzberg and Ben Bridge jewelry retail chains

Some billionaires might like bling, but not Buffett. Besides, Berkshire owns three jewelry retailers as it is: Borsheims, Helzberg and Ben Bridge. From diamond pinkie rings to gold chains to Tag Heuer wristwatches, Buffett has it covered.
Nebraska Furniture Mart

Nor does Buffett need a coffee maker, major appliance, Apple (NASDAQ:AAPL[6]) computer, LCD TV, vacuum cleaner, a Microsoft (NASDAQ:MSFT[7]) Xbox 360, digital camera, GPS, decorative home accessories, treadmill, bed, couch, loveseat or divan. Berkshire-owned Nebraska Furniture Mart sells all that stuff, and a lot more.
As of this writing, Dan Burrows did not hold positions in any of the aforementioned securities.
Endnotes:
BRK.A: http://studio-5.financialcontent.com/investplace/quote?Symbol=BRK.A
BRK.B: http://studio-5.financialcontent.com/investplace/quote?Symbol=BRK.B
WFC: http://studio-5.financialcontent.com/investplace/quote?Symbol=WFC
IBM: http://studio-5.financialcontent.com/investplace/quote?Symbol=IBM
Compare Brokers: https://investorplace.com/options-trading/broker-center/
AAPL: http://studio-5.financialcontent.com/investplace/quote?Symbol=AAPL
MSFT: http://studio-5.financialcontent.com/investplace/quote?Symbol=MSFT
Source URL: https://investorplace.com/2012/12/6-great-things-warren-buffett-already-owns/
Short URL: http://invstplc.com/1fqlbCI
---