Germany to Move Nearly 700 Tons of Gold Back Home
by Christopher Freeburn | January 17, 2013 12:22 pm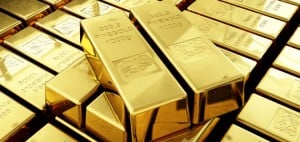 [1]Germany announced on Wednesday that it would return 674 metric tons of gold, worth about $36 billion, held in vaults in New York and Paris[2] to German soil.
The decision to repatriate some of the country's scattered gold reserves came after a domestic debate in which some German politicians questioned how much gold actually remained in foreign vaults, the Los Angeles Times notes.
During the Cold War, Germany's gold reserves were mostly moved abroad to prevent capture in the event of an invasion by the Soviet Union. Germany holds the second-largest gold reserves after the U.S. Much of its gold is held in New York City vaults operated by the U.S. Federal Reserve.
Last year, an audit of the Bundesbank, the German central bank, criticized it for poor monitoring of its overseas gold deposits.
Germany hopes to have half of its gold reserves stored in Frankfurt by 2020, up from about 31% currently. It will continue to store the remainder in London and New York.
Endnotes:
[Image]: https://investorplace.com/wp-content/uploads/2011/07/11103054-gold-bullion.jpg
held in vaults in New York and Paris: http://www.latimes.com/news/world/worldnow/la-fg-wn-germany-gold-20130116,0,3802325.story
Source URL: https://investorplace.com/2013/01/germany-to-move-nearly-700-tons-of-gold-back-home/
Short URL: http://invstplc.com/1nxMmzV
---