Hand Sanitizer, Static May Have Set Girl on Fire
by Nate Wooley | February 21, 2013 11:08 am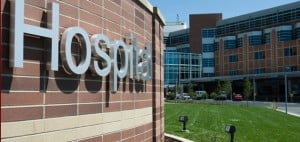 [1]A girl in Oregon was hospitalized for burns incurred when an odd combination of materials may have combusted.
Authorities say that Ireland Lane – an 11-year-old girl – was at the hospital being tested when the blaze began, reports NBC News[2]. The Fire Marshall's office now states that a combination of hand sanitizer, olive oil and a spark of static electricity likely combined to set Lane's shirt on fire.
Lane was being treated at the Doernbecher Children's Hospital following a head injury she suffered in a fall at school. The tests used the olive oil to remove residue and that, combined with the alcohol content of the hand sanitizer and a spark ignited the girl's clothing. Lane suffered burns over 12% of her body.
Lane's father was napping in her room when the blaze broke out. The girl screamed and ran into the hallway where her father smothered the flames with his own body. She was quickly moved to intensive care at the Legacy Oregon Burn Center where she continues to undergo treatment and skin grafts.
More stories about accidents:
Study: Beware the 'Bounce House'[3]
Jonas Brothers Sued by 'Crushed' Concertgoer[4]
Travelers Sues NFL Over Ex-Players' Brain Injuries[5]
Endnotes:
[Image]: https://investorplace.com/wp-content/uploads/2011/07/10123353-hospital.jpg
reports NBC News: http://vitals.nbcnews.com/_news/2013/02/19/17020154-hand-sanitizer-may-have-ignited-hospital-fire-that-hurt-girl-11?lite
Study: Beware the 'Bounce House': https://investorplace.com/2012/11/study-beware-the-bounce-house/
Jonas Brothers Sued by 'Crushed' Concertgoer: https://investorplace.com/2013/01/jonas-brothers-sued-by-crushed-concertgoer/
Travelers Sues NFL Over Ex-Players' Brain Injuries: https://investorplace.com/2012/08/travelers-sues-nfl-over-ex-players-brain-injuries/
Source URL: https://investorplace.com/2013/02/hand-sanitizer-static-may-have-set-girl-on-fire/
Short URL: http://invstplc.com/1nyryrY
---