Is the Market Making Fools of Us All?
by Ed Elfenbein | April 13, 2013 10:00 am
"The main purpose of the stock market is to make
fools of as many men as possible." – Bernard Baruch
That's so true, Bernie. The market's been making fools of lots of folks this year. Despite the lousy jobs report from last week, the stock market continues to march ever higher.
The market has easily jumped over every hurdle the bears have thrown its way. Fiscal Cliff? No problem. Debt ceiling? Not a chance. Cyprus? Trader, please.
Even the fabled Great Rotation turned out to be a dud. Investors seem to be buying both stocks and bonds, while they're leaving commodities behind. On Thursday, the S&P 500 jumped as high as 1,597.35! Dear lord, we're nearly at 1,600, and I thought I was being bold last year when I predicted the index would break 1,500 sometime early in 2013. Since the last major low shortly after the election, the S&P 500 has added more than 18%. The index has been above its 50-day moving average every day so far this year.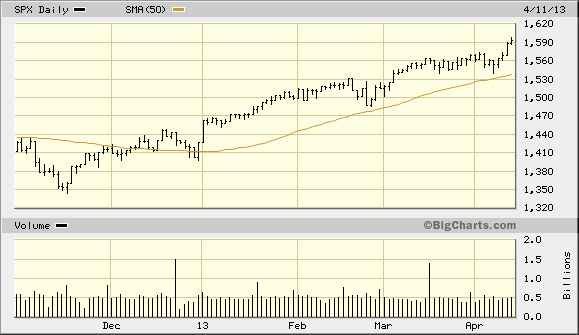 [1]
Let's enjoy the good times, but always be mindful that the market gods are a fickle bunch as you can tell by Friday's pullback. I urge all investors to be conservative and focus on top-quality stocks such as the ones you can find on our Buy List[2].
Endnotes:
[Image]: https://www.crossingwallstreet.com/wp-content/uploads/2013/04/big.chart04112013.gif
Buy List: https://www.crossingwallstreet.com/buylist
Source URL: https://investorplace.com/2013/04/is-the-market-making-fools-of-us-all/
Short URL: http://invstplc.com/1nImLnP
---