Walgreen Expands Clinics for Chronic Conditions
by Christopher Freeburn | April 4, 2013 12:43 pm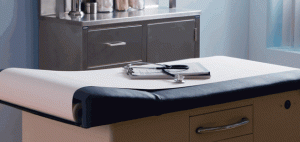 [1]On Thursday, Walgreen (NYSE:WAG[2]) announced that its in-store clinics will now help patients suffering from chronic conditions,[3] in addition to minor medical issues.
The drugstore chain operates 372 Take Care Clinics inside its stores. The clinics offer phyisican assistants or nurse practicioners, providing a convenient place to treat minor medical conditions. Similar clinics at rival chain CVS (NYSE:CVS[4]) have treated chronic illnesses for a couple of years, the Associated Press noted.
Expanding its in-store clinics' range of services to encompass conditions like asthma, high blood pressure and diabetes, comes in response to rising demand from older patients, Walgreen indicated.
The company also hopes to benefit to the extension of medical coverage to previously uninsured people next year as the Affordable Care Act takes effect[5]. The In-store clinics are expected to offset a shortage of primary care physicians. By the end of this year, CVS plans to have about 800 in-store clinics in operation.
Shares of Walgreen rose fractionally in Thursday midday trading.
Endnotes:
[Image]: https://investorplace.com/wp-content/uploads/2011/07/7697059-doctors-office.gif
WAG: http://studio-5.financialcontent.com/investplace/quote?Symbol=WAG
help patients suffering from chronic conditions,: http://hosted.ap.org/dynamic/stories/U/US_WALGREEN_CLINICS_CHRONIC_DISEASES?SITE=AP&SECTION=HOME&TEMPLATE=DEFAULT&CTIME=2013-04-04-00-08-25
CVS: http://studio-5.financialcontent.com/investplace/quote?Symbol=CVS
as the Affordable Care Act takes effect: https://investorplace.com/investorpolitics/heres-the-effect-of-obamacare-on-your-investments-in-just-1-sentence/
Source URL: https://investorplace.com/2013/04/walgreen-expands-clinics-for-chronic-conditions/
Short URL: http://invstplc.com/1fvvpSg
---