5 Retail Stocks That Could Struggle During the Back-to-School Season
by Alyssa Oursler | July 30, 2013 9:49 am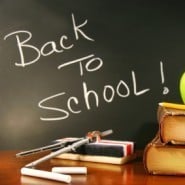 Students might dread the start of a new school year, but many retailers couldn't be more excited. Everyone knows that kids can't make their classroom debuts without first being decked out with a backpack, school supplies and, of course, new outfits.
Unfortunately, this year it just might be too hot for back-to-school-loving retail stocks to post sizzling sales numbers. Record temperatures have been reported in many parts of the country so far this month, meaning higher-than-usual electric bills are set to come in August — during the peak of the back-to-school season[1].
While I usually roll my eyes[2] at the scapegoating of weather for retail weakness, unusually hot temperatures when the stakes (and expectations bar) are high might actually do some damage … especially if gas prices remain at unpleasant levels, too.
Let's take a look at five retailers that are especially dependent on strong third-quarter sales, and that you might want to watch for stock weakness in the months to come.
The Children's Place

While it's common for Q3 to be retailers' second-strongest quarter — behind the holiday-driven Q4 — it's especially important for The Children's Place (PLCE[4]). Last year (and for the past three years), around 28% of the company's full-year sales took place during the third quarter — higher than teen-targeting names like Aeropostale (ARO[5]) and American Eagle (AEO[6]).
That slightly outsized chunk naturally has a big effect on the bottom line. The third quarter made up around 55% of PLCE's unadjusted EPS last year, and around 44% in 2011.
That's not a good thing in the face of potentially penny-pinching shoppers. While they still might hit up The Children's Place for new gear, they might opt for marked-down offerings, as opposed to the usual high-margin, promoted back-to-school styles.
Analysts are already predicting a slight slowdown for The Children's Place this quarter, too. Sales are only supposed to grow by 1.6% year-over-year, compared to improvements of over 3% and nearly 6% the two prior back-to-school quarters.
As a result, EPS estimates have been gradually pared back during the past three months. Hot temperatures could keep that unfavorable trend going, all while the stock's market-beating 22% year-to-date climb leaves plenty of room for a cooldown.
DSW

Another destination that generally excels during Q3: shoe-seller DSW (DSW[7]). Until 2011, the company's third-quarter sales actually exceeded even those of the holiday season. In 2012, meanwhile, Q3 only lagged Q4 by around $2 million, yet led to almost double the earnings.
DSW boasted a strong first-quarter this year despite other weather complaints, beating analyst earnings expectations by an impressive 11%. Of course, the back-to-school headwind has less to do with matching styles to the season than with getting shoppers to shell out extra cash.
Regardless, that momentum has helped the stock rise of late, as DSW peaked at new all-time highs around $79 earlier this month and gained nearly 30% in the past 52 weeks.
The trouble: That actually makes the stock look a little frothy, touting a forward P/E of 18 vs. five-year annualized growth predictions of only 13%. With that in mind, it could only take a slight back-to-school slowdown for investors to reconsider.
Pacific Sunwear

For Pacific Sunwear (PSUN[8]) especially, the back-to-school season has represented a much-needed bright spot in the midst of money-bleeding. The company has posted an unadjusted loss every quarter since 2010 … except for last year's Q3, where it eked out a 1-cent unadjusted profit per share.
Of course, that still adjusted to 3 cents per share in the red, but PSUN has to take its victories where it can.
The small step in the right direction — which was followed by a strong stock performance the rest of the year — came on third-quarter sales that matched its generally strong holiday (relative to other quarters) period.
Unfortunately, this year's third quarter is expected to be a wash — even though analysts were hoping for a 2-cent adjusted profit a few months ago — and sales are expected to drop 6% year-over-year.
Considering PSUN has more than doubled this year[9], putting it at a multiyear high, investors might be more than ready to take their profits and run. If hot temperatures indeed cool things off even more, watch out.
Staples

School shopping isn't all fun and games … unless you're a nerd like me who counted down to color-coordinating three-ring binders and spiral notebooks. Either way, school supplies are another prominent part of the back-to-school shopping ritual.
A prime destination: Staples (SPLS[10]). Most years, the third quarter contributes more than a third of the company's unadjusted earnings … although that trend took an ugly reversal last year. The company posted a profit in every quarter of 2012 except the third, where it posted a big-enough loss for the full year to sink into the red thanks in part to restructuring and impairment charges.
Luckily, the back-to-school season is expected to return to its normal contribution level this year — around 35% of total earnings. And school supplies seem more of a necessity than a new T-shirt or pair of shoes.
Still, higher temperatures could push more shoppers to grab bargain notebooks at Dollar Tree (DLTR[11]), Five Below (FIVE[12]) or somewhere online. That's a big red flag considering sales are already expected to again fall year-over-year, and the slightest slowdown could take earnings — now slated to be flat — with them.
Kohl's

For Kohl's (KSS[13]), the third quarter is historically the second-highest for sales but only the third-highest for profits, suggesting the company relies on bigger back-to-school markdowns than other retailers mentioned.
Unfortunately, relying on discounts can cut both ways. You could argue that since Kohl's loves back-to-school sales, it will get more penny-pinching shoppers this season. At the same time, you could also posit that its customers pinch pennies more to begin with. If the latter is the case, Kohl's could feel the sting of higher electricity bills even more than some rivals.
Either way, there's not much room for error. Kohl's is currently slated to post a mere 1.4% improvement in sales during the upcoming quarter, and a 4% improvement in profits. Any softness could lead to a sales decline or earnings miss, either of which could prompt a selloff.
A bright spot: Kohl's is one of the few retail stocks that actually boasts a decent dividend[14] — consistent income perfect for bumps like a short-term back-to-school swoon.
As of this writing, Alyssa Oursler did not hold a position in any of the aforementioned securities.
Endnotes:
during the peak of the back-to-school season: http://adage.com/article/news/hot-temperatures-leave-u-s-u-k-marketers-sweating/243279/
While I usually roll my eyes: https://investorplace.com/2013/04/weather-wont-waylay-quality-retailers/
Compare Brokers: https://investorplace.com/options-trading/broker-center/
PLCE: http://studio-5.financialcontent.com/investplace/quote?Symbol=PLCE
ARO: http://studio-5.financialcontent.com/investplace/quote?Symbol=ARO
AEO: http://studio-5.financialcontent.com/investplace/quote?Symbol=AEO
DSW: http://studio-5.financialcontent.com/investplace/quote?Symbol=DSW
PSUN: http://studio-5.financialcontent.com/investplace/quote?Symbol=PSUN
has more than doubled this year: https://investorplace.com/2013/07/5-hottest-apparel-stocks-so-far-in-2013/6/
SPLS: http://studio-5.financialcontent.com/investplace/quote?Symbol=SPLS
DLTR: http://studio-5.financialcontent.com/investplace/quote?Symbol=DLTR
FIVE: http://studio-5.financialcontent.com/investplace/quote?Symbol=FIVE
KSS: http://studio-5.financialcontent.com/investplace/quote?Symbol=KSS
actually boasts a decent dividend: https://investorplace.com/2013/07/defend-against-fickle-retail-with-these-3-dividend-stocks/4/
Source URL: https://investorplace.com/2013/07/5-retail-stocks-that-could-struggle-during-the-back-to-school-season/
Short URL: http://invstplc.com/1nyLL0M
---