FDA Reviewers: Nasacort Allergy Spray Can Go OTC
by Christopher Freeburn | July 30, 2013 9:41 am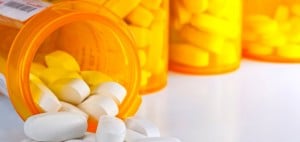 [1]An allergy drug from Sanofi (SNY[2]) could soon be sold without[3] a prescription[4].
Reviewers with the U.S. Food and Drug Administration (FDA) have found that Nasacort AQ, which is used to mitigate the symptoms of allergies and hay fever, is safe enough to be sold over the counter. The treatment currently requires a prescription, Reuters notes.
On Wednesday, an FDA advisory committee will consider issuing a recommendation to regulators to allow over-the-counter sales of the drug. The reviewers' opinion
According to an opinion published online, the reviewers said that Nasacort had "a favorable risk-benefit profile."
In May, dupilumab, and anti-asthma drug developed by Sanofi and Regeneron Pharmaceuticals (REGN[5]), reportedly reduced asthma attacks by 87%[6] in a 12-week, 104-patient study.
Shares of Sanofi climbed more than 1% in Tuesday morning trading.
Endnotes:
[Image]: https://investorplace.com/wp-content/uploads/2011/07/11927463-prescription-medicine-spilling-from-open-bottles.jpg
SNY: http://studio-5.financialcontent.com/investplace/quote?Symbol=SNY
be sold without: http://www.reuters.com/article/2013/07/29/sanofi-nasacort-idUSL1N0FZ0AT20130729
a prescription: http://www.reuters.com/article/2013/07/29/sanofi-nasacort-idUSL1N0FZ0AT20130729
REGN: http://studio-5.financialcontent.com/investplace/quote?Symbol=REGN
reduced asthma attacks by 87%: https://investorplace.com/2013/05/new-asthma-drug-could-be-game-changer/
Source URL: https://investorplace.com/2013/07/fda-reviewers-nasacort-allergy-spray-can-go-otc/
Short URL: http://invstplc.com/1nBrhED
---