Hedge Funds: Updates, Downturns, and What's New for 2013
by NerdWallet | July 25, 2013 10:30 am
The year 2013 has bestowed quite a bit of good economic news on Americans thus far: home prices are rising, the stock market has done well, and the unemployment rate has been slowly improving. All-in-all, the average American has probably seen a boost to her net worth this calendar year.
But what about the not-so-average American? The super-wealthy, those most likely to invest in a hedge fund, have probably been somewhat disappointed by their fund's performance this year, particularly in the second quarter. Unlike other investments, hedge funds – the exclusive, highly speculative investment choice of America's richest moguls – have had a difficult 2013 up to this point.
According to Preqin's quarterly update[1], while the hedge fund industry remains robust – three hundred hedge funds have launched so far this year – a poor second quarter performance has turned up the pressure on some fund managers to improve returns. Take a look at the information below for a deeper look at what's going on with hedge funds so far in 2013.
Poor Performance So Far
In short, hedge funds performed poorly overall in the second quarter of 2013, as we can see from Preqin's data. The month of June ended a 12-month track record of positive returns, with hedge funds overall posting a net loss of 1.52% that month. For the year so far, the best performing funds have been those focused on the Asia-Pacific region, but even these funds saw losses of 1.72% in June. The biggest losses for the quarter overall were seen in those funds that invested primarily in emerging markets, which fell by 1.58% between April and June.
Partially, this dip is attributable to a shaky international market overall, but it brings to the surface a troubling trend in the hedge fund industry that's been brewing for a few years: in the past three years, hedge funds have failed to match the returns of the S&P 500. And according to Bloomberg[2], hedge funds have lagged the MSCI All Country World Index for five of the past seven years.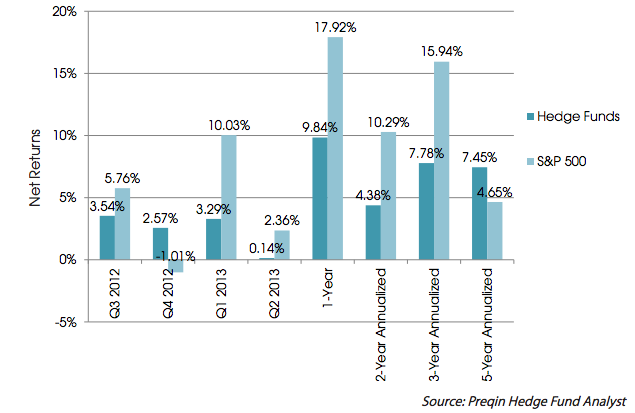 Given the highly risky nature of hedge funds, most investors expect returns to significantly outpace those of the overall market. The failure of most fund managers to beat major stock indexes, despite their ability to use sophisticated investment techniques unavailable to managers of traditional mutual funds, may give potential hedge fund investors pause in the future. After all, it may not seem attractive to take a huge gamble on a risky fund with poor historic performance compared to the overall market.
Growing Hedge Fund Market
Despite the appearance of some cracks in investor confidence in hedge funds, the news isn't all bad: so far, 2013 has seen the launch of 300 new hedge funds, and that number is expected to continue to climb.
Preqin's research shows that the most commonly-launched type of hedge fund for 2013 thus far has been the event-driven hedge fund; in fact, almost 20% of new hedge funds in 2013 have been of the event-driven variety. This type of fund seeks to invest strategically in major corporate "events," such as mergers, bankruptcies, etc.
Interestingly, North American hedge funds saw a steep drop in launches between the first and second quarters of 2013. Between January and March, 28% of new hedge funds were based in North America, but that figure dropped to only 9% in the second quarter. This seems to be caused by a shift towards more Europe-based hedge funds, due to improving economic conditions in Europe overall. Nineteen percent of all hedge fund launches between April and June of 2013 were Europe based funds.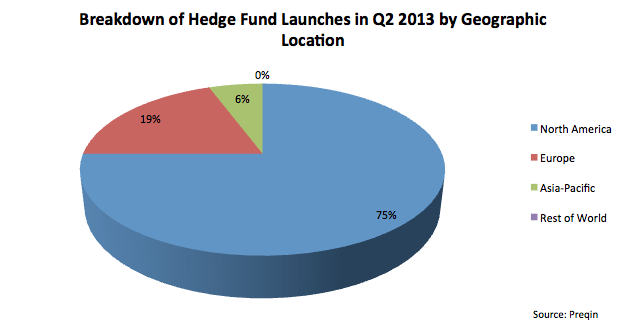 Looking Forward
Institutional investors have been some of hedge funds' most reliable customers in recent years. Despite a rocky 2013, the appetite for hedge funds remains strong; between April and June, over 250 institutional investors launched searches for new funds to invest in. The most attractive hedge funds to institutional investors have historically been long/short equity funds, and this has remained true in 2013: 47% of investor searches this year have been for long/short funds.
While hedge funds have experienced some bumps in 2013 and continue to perform below the overall market, fund managers remain optimistic about regaining lost ground in the future. However, weak performance overall means any hedge funds looking to advertise, now that their ban on solicitation has been removed by the JOBS Act[3], will have a challenge ahead of them. We'll all be watching to see what the rest of 2013 brings to this elite financial industry.
If you want to learn more about how hedge funds are investing, NerdWallet's Hedge Fund Tracker[4] allows you to view their purchases, sales, and asset allocation.
Endnotes:
Preqin's quarterly update: https://www.preqin.com/docs/quarterly/hf/Preqin_Quarterly_Hedge_Funds_Update_Q2_2013.pdf
Bloomberg: http://www.businessweek.com/articles/2013-07-11/why-hedge-funds-glory-days-may-be-gone-for-good#p1
JOBS Act: http://finance.fortune.cnn.com/tag/jobs-act/
Hedge Fund Tracker: http://www.nerdwallet.com/investing/hedge-funds
Source URL: https://investorplace.com/2013/07/hedge-funds-updates-downturns-and-whats-new-for-2013/
Short URL: http://invstplc.com/1fAyTTK
---