Is Any Metal Worth Trading Right Now?
by James Brumley | July 11, 2013 9:53 am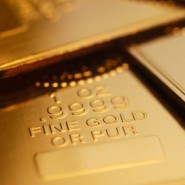 [1]In the past several weeks, the metals markets have been, shall we say, crazy. Silver and gold have fallen 39% and 25%, respectively, since early February. Copper is down 16% since then. Palladium and platinum are off 7% and 21% for the same period.
Just ugly.
Sure, every market ebbs and flows from one day to the next. But these pullbacks from metals aren't mere ebbs and flows. They're huge, prolonged meltdowns, and might well point to deeper fundamental problems.
Or they might not — that's the crux of the challenge. These big dips might just reflect a knee-jerk reaction from traders who got a little spooked when metals stumbled a little more than we've gotten accustomed to. If that's the case, then there's a good chance some or all of these commodities are due for a bounce.
As usual, the question is answered on a case-by-case basis for each metal.
Gold


Click to Enlarge First and foremost — and despite everything the rest of the media is telling you — gold is an enigma; a mental construct built on assumption. Don't worry about the so-called fundamentals, as nobody actually has a bead on them. Gold's all about the chart and speculation.
On that note …
While it was overbought and due for a pullback, the selloff that gold has suffered this year was overdone. After reaching a major support line around $1,200 per ounce a couple of weeks ago, the rebound started, and it's progressing nicely. Given how oversold gold was, we should see prices return to $1,400 before it hits its next headwind. At that point, we'll be back at the crossroads, and most likely resume the downtrend at a better-tempered pace.
There's room for a decent trade between here and $1,400, though.
Platinum


Click to Enlarge Simply put, where gold and silver have been disintegrating, platinum has merely been deteriorating. It's also perhaps due for a near-term bounce, though not likely positioned for anything higher than $1,475 per ounce before the sellers dig in again.
What's interesting about the platinum chart is how well the range between the 61.8% and 38.2% Fibonacci retracement lines (established by the peak and bottom of 2008's wild swing) managed to hold up since late 2011. As of early June, though, we saw our first lower high, and a couple of weeks later we finally saw a tick or two under that floor at $1,349.
Now that the damage has been done, it's likely the budding downtrend will really start to get traction.
Copper


Click to Enlarge Of the world's five most-traded and most-used soft metals, copper is by far the most practical one. Problem: It's also the most abundant one, in addition to being the industrial metal that we're progressively needing less and less of. The end results are …
A chart that looks distinctively different than any other soft-metal chart.
A chart that can be taken at face value more than any other metal chart.
In any case, the move under $3.10 per pound last month pulled copper below a key floor, though there's still a glimmer of hope of support at $2.90. If the floor at $2.90 fails, however, there's little left that would keep prices afloat.
Thing is, in-stock copper supplies are just a tad off 10-year highs. It doesn't look good for prices.
Palladium


Click to Enlarge No need to mince words here — palladium is the one metal definitely worth taking a short-term shot on here, and it's possible that short-term trend could become a long-term one.
Palladium hasn't been whacked too hard this year. In fact, it hasn't even been shaken out of its trendlines at all. Rather, a small dip in June was reversed once the metal met up with a rising support line — a support line that makes up the lower side of a wedge pattern. That should be enough to carry palladium prices all the way up to the upper side of the wedge at $767 per ounce.
That test of the upper boundary also will be the third time it's been tested in just a few months, however, and it might well be the case that the bulls are going to blast past that ceiling this time around. If that's the case, we could end up with another rally like the ones we saw in 2009 or 2010.
Silver


Click to Enlarge You'd think silver and gold would trade in tandem. And most of the time, you'd be wrong.
While gold has had it rough of late, at least gold had a support level nearby to push off of. When silver broke under 61.8% Fibonacci line at $25.27 per ounce in April, it was like the floodgates opened.
To give credit where it's due, there's a glimmer of hope of support at $17.93. That's been a key resistance level, too, making it that much more important as a floor now. As was the case with gold, it might even be enough to spark a quick bounce, maybe as high as $20.
The long-term trendline here, however, suggests $20 is about as high as silver could travel — for the time being — before the weight of that gain would start to bear down on prices again.
As of this writing, James Brumley did not hold a position in any of the aforementioned commodities.
Endnotes:
[Image]: https://investorplace.com/wp-content/uploads/2010/09/iStock_000005601607XSmall-e1284571997813.jpg
Compare Brokers: https://investorplace.com/options-trading/broker-center/
Source URL: https://investorplace.com/2013/07/is-any-metal-worth-trading-right-now/
Short URL: http://invstplc.com/1dcm3GP
---