Warren Buffett Makes Enormous Donation to Gates Foundation
by William White | July 9, 2013 11:40 am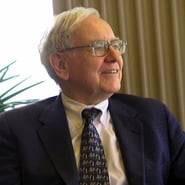 [1]Berkshire Hathaway (BRK.B[2]) CEO Warren Buffett, donated $2 billion[3] to the Bill and Melinda Gates Foundation, on Monday.
The donation is Warren Buffett's annual gift to the foundation and beats his donation last year of $1.8 billion. The $2 million was donated by Buffett giving about 17.5 million Berkshire Hathaway Class B shares to the foundation, reports Bloomberg.
"The truth is I have never given a penny away that had any utility to me," Buffett told Bloomberg. "For millions of people who aren't rich, donating money really means they're giving up a movie, or a dinner out, or if it's a larger sum, maybe a trip to Disneyland."
In 2006, Buffett pledged to give about $31 billion[4] to the Gates Foundation. He also advises other wealthy Americans to donate most of their fortunes, through the Giving Pledge[5] commitment.
Endnotes:
[Image]: https://investorplace.com/wp-content/uploads/2010/11/Warren_Buffett1.jpg
BRK.B: http://studio-5.financialcontent.com/investplace/quote?Symbol=BRK.B
$2 billion: http://www.bloomberg.com/news/2013-07-08/buffett-makes-2-billion-donation-to-gates-foundation.html
$31 billion: http://dealbook.nytimes.com/2013/07/08/buffett-gives-2-billion-to-gates-foundation/
Giving Pledge: http://givingpledge.org/
Source URL: https://investorplace.com/2013/07/warren-buffett-makes-enormous-donation-to-gates-foundation/
Short URL: http://invstplc.com/1fqLtES
---