5 Overpriced Blue Chips to Sell After Big Runs
by Jeff Reeves | August 6, 2013 9:46 am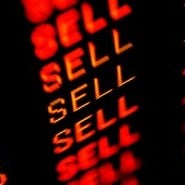 [1]The market has had a heck of a run in 2013, with the S&P 500 pushing above 1,700 to tally a nearly 20% gain since Jan. 1.
Many typically low-risk stocks have been caught up in the resulting rally, too, racing up with the market and delivering unusually large share price appreciation to stockholders.
While it's a good problem to have your typically sleepy stocks tack on big gains like this, it does present a bit of a quandary for investors. After all, if you actively seek out stable, dividend-paying investments that are typically low-alpha and highly correlated to the market … what do you do when you find your portfolio full of fast-moving picks that have significantly outpaced the market?
Do you just smile and enjoy the ride? Or do you trim back, knowing that these stocks aren't designed to fly so high so fast?
If you own one of the following blue chips, I recommend cutting back right now because the underlying businesses can't support the rapid run-up in shares. This is not to say they will crash and burn … but if the market keeps chugging higher while you suffer a slow drift downward or sideways, that's no way to invest.
Here are five risky blue chips masquerading as low-risk plays that investors should sell right now:
Allstate

[3]Insurance giant Allstate (ALL[4]) has been a very fashionable trade lately, running up about 28% since Jan. 1 compared with 20% for the S&P 500, on optimism that rising rates will benefit its bottom line.
Insurance stocks typically invest their premium payments in short-term, interest-bearing assets until they need to tap into their cash stockpile to pay for claims. So if the Federal Reserve ticks up interest rates — or even if Treasuries just keep moving higher on their own like they have lately — that will benefit ALL stock.
But this optimism has been baked in with recent outperformance, and it's time to see some actual results. Revenue hasn't really budged in years, with a measly 3% sales increase projected for this year and a 3% rise projected for next year. To top it off, Allstate is trading for a 20% premium on its book value.
It seems a lose-lose for investors, particularly new money. If the impact of higher rates is baked in, you're too late to see upside — and if revenue misses or the Fed delays tightening policy, then it's only going to result in pain for Allstate investors.
Microsoft

[5]Microsoft (MSFT[6]) is a tech giant with one of the most recognizable names in the world and almost $88 billion in cash and investments. And while the post-PC age is weighing on growth, the sales are still rolling in.
However, MSFT just sold off sharply after earnings thanks to a $900 million charge[7] related to Surface tablet inventory adjustments and a big miss on profits. And with continued headwinds in mobile and the decline of its Windows empire, this trend is going to continue for some time.
But somehow the tech giant is up more than 19% year-to-date in 2013 — and that has many thinking that Microsoft is stable, or even that it could be a bargain right now after the pull-back.
Don't believe it. The price-to-earnings ratio is much more reasonable than other picks on this list, but the risk of disruption and falling behind is severe[8]. Microsoft is squeezing as much as it can from Windows and its Office software, but mobile trends and competition are clearly working against this stock.
3M

[9]Since Halloween, 3M (MMM[10]) has tacked on about 35% vs. the 21% gains for the S&P 500 Index in the same period … but why?
Sure, MMM has a dominant position in the chemicals and materials space. With its $80 billion market cap, $5.3 billion in operating cash flow and dividends dating back to 1916, this company is a case study in stability.
But revenue has been basically flat since fiscal 2011, tracking a measly 3.5% growth rate in fiscal 2013 and just 5% sales growth in fiscal 2014. Earnings are moving higher on efficiencies, yes, but the valuation is hardly cheap and improving earnings are baked in. Based on 2014 EPS forecasts of $7.35 per share, you're paying a forward P/E north of 16.
That seems rich for a sleepy chemicals stock. And considering its dividend is just 2.1% at these levels — less than the 10-year T-Note is yielding after a recent run — there might not be much buying pressure from income investors going forward considering the alternatives.
3M isn't going anywhere, but I think underperformance is in store for this pick after the run-up and modest outlook.
Hershey

[11]It's been a great run for chocolate maker Hershey (HSY[12]) in the last few years. Check out this performance vs. the S&P 500:
Since 1/1/10 — up 170% vs. 55% for the S&P 500
Since 1/1/11 — up 100% vs. 35% for the S&P 500
Since 1/1/12 — up 57% vs. 32% for the S&P 500
Since 1/1/13 — up 34% vs. 20% for the S&P 500
This kind of outperformance is amazing, and it has been very hard to bet against Hershey stock over the last few years and make any money. However, there are signs that growth is slowing down and that investors should slow down, too.
Revenue is set to grow only about 7% this year and 6% next year, and while earnings are set to expand more rapidly, it might be time to reset expectations. The forward P/E of HSY stock is 23 right now, very rich for a $20 billion consumer products company.
Johnson & Johnson

[13]Healthcare giant Johnson & Johnson (JNJ[14]) has outperformed the fast-moving market in 2013 with 35% gains year-to-date vs. about 20% for the S&P 500. The reason has been a renewed focus on quality after some high-profile recalls over the last few years, and a new CEO to take the reins and reshape the firm after longtime J&J exec William Weldon stepped down.
You know the case for stability in JNJ stock — its focus on a recession-proof sector, its consumer products like Tylenol and Band-Aids to keep cash flowing, its global scale and its nice 2.7% dividend yield are just a few.
But the rebound has already happened at Johnson & Johnson as earnings have been on the rise — and frankly, details aren't super encouraging since its medical device business just missed expectations[15] and there are fears that another miss could weigh significantly on shares.
The long-term case based on JNJ's product pipeline could still stand, but be careful in the short term, what with the forward P/E of about 16.2 and the risk of shares overheating.
Jeff Reeves[16] is the editor of InvestorPlace.com and the author of "The Frugal Investor's Guide to Finding Great Stocks."[17] Write him at editor@investorplace.com[18] or follow him on Twitter via @JeffReevesIP[19]. As of this writing, he did not own a position in any of the stocks named here.
Endnotes:
[Image]: https://investorplace.com/wp-content/uploads/2010/08/trading_screen_iStock_000007388795XSmall-e1289947313436.jpg
Compare Brokers: https://investorplace.com/options-trading/broker-center/
[Image]: https://investorplace.com/wp-content/uploads/2012/05/Allstate185.jpg
ALL: http://studio-5.financialcontent.com/investplace/quote?Symbol=ALL
[Image]: https://investorplace.com/wp-content/uploads/2012/08/MicrosoftNew185.jpg
MSFT: http://studio-5.financialcontent.com/investplace/quote?Symbol=MSFT
$900 million charge: https://investorplace.com/2013/07/did-surface-tablets-kill-microsoft/
the risk of disruption and falling behind is severe: http://slant.investorplace.com/2013/08/microsoft-surface-msft-stock-aapl-goog-amzn/
[Image]: https://investorplace.com/wp-content/uploads/2012/01/3MLogo.jpg
MMM: http://studio-5.financialcontent.com/investplace/quote?Symbol=MMM
[Image]: https://investorplace.com/wp-content/uploads/2011/12/Hershey185.jpg
HSY: http://studio-5.financialcontent.com/investplace/quote?Symbol=HSY
[Image]: https://investorplace.com/wp-content/uploads/2010/08/JohnsonJohnsonLogo-e1282585796958.jpg
JNJ: http://studio-5.financialcontent.com/investplace/quote?Symbol=JNJ
medical device business just missed expectations: http://blogs.marketwatch.com/health-exchange/2013/07/16/johnson-johnson-beats-earnings-forecasts-but-gets-little-investor-love/
Jeff Reeves: http://slant.investorplace.com/author/profile/jeff-reeves/
"The Frugal Investor's Guide to Finding Great Stocks.": http://www.amazon.com/dp/B007KB9CSI/ref=rdr_kindle_ext_tmb
editor@investorplace.com: mailto:editor@investorplace.com
@JeffReevesIP: http://twitter.com/JeffReevesIP
Source URL: https://investorplace.com/2013/08/5-overpriced-blue-chips-to-sell-after-big-runs/
Short URL: http://invstplc.com/1frrwhb
---