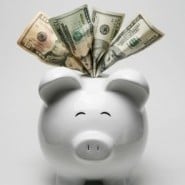 When investors looks for dividends, they often opt for venerable blue-chips like Verizon (VZ), Procter & Gamble (PG) or McDonald's (MCD). But it's important to remember that size — or the size of the company, that is — isn't everything.
Instead, some small-cap stocks — with market capitalization under the $2 billion mark — offer some hefty payouts as well, with many yields sitting in double digits.
Sure, playing such dividend stocks obviously comes with a little more risk, but the small size also means there's more potential for reward. A sleepy telecom like Verizon might give you steady income, but its shares are never going soar. With small-caps, on the other hand, share appreciation — and rapid share appreciation at that — isn't out of the question.
With that in mind, let's take a look at three small-cap dividend stocks boasting big-time yields and thus providing investors the opportunity for a double bonus of solid stock gains and sweet income.
Capstead Mortgage Corp.

Market cap: $1.2 billion
Dividend yield: 9.9%
Of course, we have to start with a real estate investment trust (REIT). One of the best REITs right now looks to be Capstead Mortgage Corp. (CMO); it's gained 9% so far this year as its similarly sized peers all sit in the red.
This dividend stock has been steady, even if its payments haven't been marching upward. Of course, a downward trend is to be expected when you consider that earnings fell by around 10% per year over the past half-decade.
The good news, though, is that the current 31-cent quarterly payout is slightly higher than the previous 30-cent quarterly payout, and is good for a yield just under 10%.
Plus, the company's earnings are expected to regain some ground in the coming years. Five-year annualized growth is estimated to be in the double digits.
Breitburn Energy Partners

Market Cap: $1.8 billion
Dividend Yield: 10.6%
Breitburn Energy Partners (BBEP) is independent oil and gas partnership with assets across the U.S., including crude oil and natural gas reserves in Michigan's Antrim Shale, Wyoming's Powder River Basins and California's San Joaquin Basins.
Of course, the most important detail of that previous sentence for investors is the word "partnership" — since Breitburn is an MLP, it is required to pay out at least 90% of its taxable income to shareholders. Right now, that translates to a 48-cent-per-share quarterly payout and an annual yield north of 10%.
Another promising sign, though, is the energy company's focus. Crude oil has been climbing over the past year, including a jump this week. Meanwhile, natural gas prices have been on the way up since early August.
The stock has more or less muddled along since 2011, never fully recovering from the financial crisis. Still, it's managed to increase its dividend by 20% since 2007. Plus, the company's earnings are on pace to grow by 10% per year over the next half-decade.
Arlington Asset Investment Corp.

Market Cap: $447 million
Dividend Yield: 13.4%
Arlington Asset Investment Corp. (AI) is an investment firm that acquires mortgage-related and other assets — and that rewards investors with a juicy dividend.
The stock's dividend went from 35 cents per share in early 2010 to the current 88-cent per share quarterly payout it's been paying since mid-2011 and just once again declared.
For investors, that means a sweet 13% yield, even in the face of the stock's market-beating 25% year-to-date run.
The company is also a C Corporation, meaning its dividends are eligible for a 23.8% federal income rate on qualified dividend income, according to the company's website, while dividends paid by a REIT are generally subject to tax at ordinary income rates — currently a maximum federal rate of just over 43%.
As of this writing, Alyssa Oursler did not hold a position in any of the aforementioned securities.