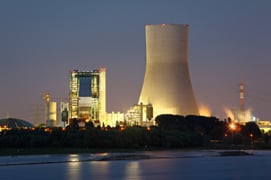 On Sunday, PPL Susquehanna (PPL) and Allegheny Electric Cooperative said that one unit at its Luzerne County, Pa., nuclear power plant was shut down due to a water leak.
The discovery of water in a reactor building room prompted the plant to temporarily declare an "unusual event," the least urgent of the four emergency notifications required by the U.S. Nuclear Regulatory Commission, which oversees nuclear plant operations in the U.S., the Associated Press noted.
The unit was taken offline so that operators could examine the unit's turbine blades to determine if they had cracks. However, the leak was ultimately traced to a valve in one of the facility's cooling systems. The leak did not affect other cooling systems at the plant.
PPL Susquehanna said that the unit will stay shut down as it continues to review the leak, which has been contained. The company noted that there was no danger to the public from the incident.
Shares of PPL Susquehanna rose slightly in Monday morning trading.