3 Stocks You Need to Sell NOW
by Dan Burrows | October 7, 2013 1:46 pm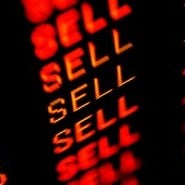 [1]Wall Street is almost never bearish on a stock, so when they rate something a "sell," you know it's time to get out.
Equity analysts are known for being, shall we say, overly optimistic about the companies they cover. That is, they hate to slap a "sell" call on anything.
Partly that's because they don't want to alienate potential clients of their firms' investment banking divisions. And partly it's because they don't typically look for short opportunities. Hey, if you're looking for stocks to recommend to long-only investors, why put resources into covering dogs?
As a result, "sell" is a four-letter word when it comes to Wall Street stock recommendations.
At the end of the third quarter, there were more than 11,000 ratings on stocks in the S&P 500, according to data from FactSet. Of those, 49% had "buy" ratings and 46% were called "holds." Only 5% of the stock recommendations were "sells."
True, there's a bull and a bear case to be made on pretty much any asset, but some stocks just aren't worth the trouble — not when even Wall Street analysts won't touch them.
Here are three stocks where Wall Street's average recommendation is "sell," according to data from Thomson Reuters. If you hold any of these names, you might want to reconsider.
Sears Holdings

[2]Ever since Kmart bought Sears Holding (SHLD[3]) and took the latter's name, this retailer has been a prime example of tying two bricks together and expecting them to float.
SHLD's sales are forecast to decline another 7.3% this year, while the company's loss is expected to triple — to $6.15 a share from $2.03 in the prior-year period.
Only three analysts cover Sears, according to data from Thomson Reuters, with one calling it a "hold" and the other two saying "sell." Their average price target stands at $22.50, making the implied downside 65% in the next 12 months or so.
Lexmark

[4]A company that makes printers and ink. How quaint.
Not only does Lexmark (LXK[5]) face intense pricing pressure from competitors like Xerox (XRX[6]), Hewlett-Packard (HPQ[7]) and Canon (CAJ[8]), but it's burdened with a high debt load, too.
True, earnings are supposed to grow this year even as sales slump more than 6%, but the Street doesn't expect the trend to last long. Lexmark has a projected long-term growth rate of -3.2%.
Of the 12 analysts covering the stock, three call it a "hold," while nine say it's a "sell." The average price target stands at $27, making the implied downside 20% in the next 12 months or so.
Caesars Entertainment

[9]Like the rest of the gambling industry, Caesars Entertainment (CZR[10]) faces what analysts call a "challenging operating environment." High unemployment and a weak recovery have been headwinds for casino companies for years. It also doesn't help that Caesars' balance sheet is bloated with debt[11].
Yes, CZR is projected to pare its loss this year to $6.68 a share from $11.95 a year ago on a sales gain of 1.7%. So what? The company hasn't reported an annual profit since 2009.
Of the eight analysts covering the stock, four have it at "hold" and four call it a "sell." (That averages out to a "sell" rating, according to Thomson Reuters.) The mean price target stands at $12.40, giving CZR an implied downside of 43% in the next year or so.
As of this writing, Dan Burrows did not hold a position in any of the aforementioned securities.
Endnotes:
[Image]: https://investorplace.com/wp-content/uploads/2010/08/trading_screen_iStock_000007388795XSmall-e1289947313436.jpg
[Image]: https://investorplace.com/wp-content/uploads/2012/10/Sears185.jpg
SHLD: http://studio-5.financialcontent.com/investplace/quote?Symbol=SHLD
[Image]: https://investorplace.com/wp-content/uploads/2013/07/lexmark-international-185.jpg
LXK: http://studio-5.financialcontent.com/investplace/quote?Symbol=LXK
XRX: http://studio-5.financialcontent.com/investplace/quote?Symbol=XRX
HPQ: http://studio-5.financialcontent.com/investplace/quote?Symbol=HPQ
CAJ: http://studio-5.financialcontent.com/investplace/quote?Symbol=CAJ
[Image]: https://investorplace.com/wp-content/uploads/2012/02/Caesars185.jpg
CZR: http://studio-5.financialcontent.com/investplace/quote?Symbol=CZR
Caesars' balance sheet is bloated with debt: https://investorplace.com/2013/09/casino-stocks-one-to-buy-one-to-sell/
Source URL: https://investorplace.com/2013/10/stocks-to-sell-shld-lxk-czr/
Short URL: http://invstplc.com/1nuSfhf
---