3 Warren Buffett Stocks to Sell
by Will Ashworth | November 22, 2013 9:38 am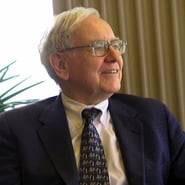 [1]Berkshire Hathaway's (BRK.B[2]) latest 13F[3] is 42 companies strong, with assets totaling $92 billion, and the lot of these Warren Buffett picks are being scoured by stock-pickers to see which ones they love the most for their own portfolios.
However, while Warren Buffett (and money managers Todd Combs and Ted Weschler) are great at what they do, not all of their investment picks are necessarily winners.
Granted, picking stocks and recommending companies that Berkshire Hathaway should unload is a lot like telling Bill Belichick how to coach.
Nonetheless, I've scoured the 13F, and I believe there are three stocks that need to go.
Sell No. 1: GlaxoSmithKline


[4]The first and most obvious choice to go is GlaxoSmithKline (GSK[5]), which represents just 0.02% of Berkshire Hathaway's equity holdings, and whose position was reduced by 77% in the third quarter.
Berkshire's top 10 holdings account for 83% of its $92 billion in equities. They're what money managers commonly refer to as their "best ideas." GSK is nowhere near the top 10 and represents one-seventh the weighting of French drug maker Sanofi (SNY[6]), which Warren Buffett reduced in the third quarter.
After GSK hit an 11-year-plus high in late May, its stock has retreated after news that the company was involved in a bribery trial in China, not to mention it is facing significant competitive pressures regarding its respiratory drug Advair.
Bottom line: European drug stocks have gotten expensive, and GSK doesn't warrant paying any sort of premium.
Sell No. 2: ConocoPhillips


[7]The big news in Berkshire Hathaway's 13F filing was its 40.1 million shares in Exxon Mobil (XOM[8]), an addition that makes the world's largest oil company Berkshire's seventh-largest holding[9] at 3.75% of its portfolio.
This is the second go-round[10] for Buffett with XOM; he owned its stock for less than two years back in 1985, selling out for a 44% gain.
However, with XOM representing a top 10 holding, its other big E&P play — ConocoPhillips (COP[11]) — becomes redundant.
That's a reason for Buffett to sell. A reason for you to sell is that COP has had a much better run in recent years, and reversion to the mean suggests it and XOM are about to change directions.
Sell No. 3: Dish Network


[12]For my money, this third sell has got to be Dish Network (DISH[13]).
There has been talk that DISH could merge[14] with DirectTV (DTV[15]), its much larger satellite competitor, given the recent thumbs up by the federal government for the AMR (AAMRQ[16]) merger with US Airways (LCC[17]).
However, billionaire DISH founder Charlie Ergen, who owns 52% of the company, has a really strong desire to become a telecom player. In other words, the man doesn't know what he wants his baby to be.
For me, DTV is the true pure-play and the better move in satellite. Why else would Warren Buffett have such a big weighting for DTV (2.37% of equity portfolio vs. 0.03% for DISH) and not Mr. Ergen's company?
I think we all know the answer to that.
Of course, there's one other company on the Berkshire roster that just doesn't jive …
Wildcard Sell: McLane Company


[18]I'll probably catch heck from Warren Buffett worshipers for this final pick, which isn't a public company, but I believe McLane Company remains a weight around Berkshire Hathaway's neck.
For the first nine months of 2013, the food and beverage wholesale distributor generated 26% of BRK.B's overall revenue, but just 2.1% of the company's earnings before taxes. While I understand the wholesale distribution business is high-volume, low-margin, it generates a worse yield (1.1% earnings before taxes margin) than Walmart's (WMT[19]) dividend yield of 2.4%.
Just because Walmart uses McLane (and once owned) for distribution doesn't mean Berkshire Hathaway needs to own it. Let somebody else deal with the slim margins.
As of this writing, Will Ashworth did not hold a position in any of the aforementioned securities.
Endnotes:
[Image]: https://investorplace.com/wp-content/uploads/2010/11/Warren_Buffett1.jpg
BRK.B: http://studio-5.financialcontent.com/investplace/quote?Symbol=BRK.B
latest 13F: http://www.sec.gov/Archives/edgar/data/1067983/000095012313009777/xslForm13F_X01/form13fInfoTable.xml
[Image]: https://investorplace.com/wp-content/uploads/2010/09/GlaxoSmithKlineLogo.jpg
GSK: http://studio-5.financialcontent.com/investplace/quote?Symbol=GSK
SNY: http://studio-5.financialcontent.com/investplace/quote?Symbol=SNY
[Image]: https://investorplace.com/wp-content/uploads/2010/08/ConocoPhillipsLogo.jpg
XOM: http://studio-5.financialcontent.com/investplace/quote?Symbol=XOM
Berkshire's seventh-largest holding: https://investorplace.com/2013/11/exxon-mobil-buffett-xom-brkb/
second go-round: http://www.bloomberg.com/news/2013-11-20/warren-buffett-s-exxon-bungle.html
COP: http://studio-5.financialcontent.com/investplace/quote?Symbol=COP
[Image]: https://investorplace.com/wp-content/uploads/2013/11/DishNetworkNew185.jpg
DISH: http://studio-5.financialcontent.com/investplace/quote?Symbol=DISH
merge: http://www.bloomberg.com/news/2013-07-11/liberty-s-john-malone-urges-ergen-to-merge-dish-with-directv.html
DTV: http://studio-5.financialcontent.com/investplace/quote?Symbol=DTV
AAMRQ: http://studio-5.financialcontent.com/investplace/quote?Symbol=AAMRQ
LCC: http://studio-5.financialcontent.com/investplace/quote?Symbol=LCC
[Image]: https://investorplace.com/wp-content/uploads/2013/11/McLane185.jpg
WMT: http://studio-5.financialcontent.com/investplace/quote?Symbol=WMT
Source URL: https://investorplace.com/2013/11/3-warren-buffett-stocks-to-sell/
Short URL: http://invstplc.com/1nsnauw
---