5 Energy Stocks Ripe for Shorting
by Anthony Mirhaydari | November 20, 2013 8:47 am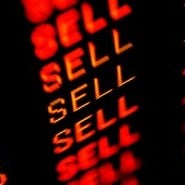 [1]While the Dow Jones Industrial Average has been ripping to new highs, challenging the 16,000 level[2] and generally whipping the bulls into a drool-inducing frenzy, a few skeptics like me have noticed some odd developments. Like the fact that market breadth is narrowing substantially as fewer and fewer stocks support the uptrend. Semiconductors, big tech and energy stocks have been notable laggards.
Energy stocks also have been hit by the head slam suffered by crude oil, which has fallen from a peak of $112 a barrel in August to the $92 handle now. A combination of a relatively stable dollar, renewed economic weakness in Europe and concerns over reform efforts in China have weighed on the commodity.
So now, with the market stalling at the finish line, here are five short-side opportunities among energy stocks that are worth a look.
Sandridge Energy (SD)


Click to Enlarge After recommending Sandridge Energy (SD[4]) as a long position to my clients back in August and September, and booking profits in October, Sandridge has become a disaster zone, down nearly 20% from its high as investors have abandoned the sector.
Sandridge has been unable to break loose of the persistent downtrend pattern going back to mid-2011.
A return to the April-July consolidation range looks likely for the stock, which would represent an 11% decline from current levels.
Chesapeake Energy (CHK)


Click to Enlarge Shares of Chesapeake Energy (CHK[5]) look ready to roll down and out of a trading pattern that goes back to August and had returned prices to levels not seen since the mid-2011, energy-led inflation scare.
Chesapeake reported better-than-expected top- and bottom-line results for Q3, but investors no longer seem interested in the company's plan to sell assets (nearly $4 billion worth through the end of September) to raise liquidity and reduce debt.
With an unfilled gap near $23.50 a share, a drop to that level (which also represents the top end of the March-August trading range) is in order. That should equate to a nearly 10% drop from here.
Kodiak Oil and Gas (KOG)


Click to Enlarge Kodiak Oil & Gas (KOG[6]), which peaked dramatically in October, has moved below its 50-day moving average in a significant way for the first time since April. The catalyst for the decline was a weaker-than-expected Q3 earnings result of 12 cents per share, well below the consensus estimate of 23 cents.
Technically, there isn't a major support level until you get down to near $9 a share, which would represent a 20%-plus decline for KOG from here.
Whiting Petroleum (WLL)


Click to Enlarge After a big run in September, Whiting Petroleum (WLL[7]) is rolling over back below its 50-day moving after on a surge of negative volume. The company reported good earnings and revenue growth, but was hit by the fact oil and natural gas prices have weakened lately.
If you squint, Whiting stock seems to have traced out a compressed head-and-shoulders reversal pattern that points to a price target of $54 a share — an 11% drop from current levels.
Oasis Petroleum (OAS)


Click to Enlarge Oasis Petroleum (OAS[8]), like the other names here, is similarly rolling over after impressive run higher in September and October.
So it goes with profit taking.
The selling in OAS has been particularly intense, with heavy negative volume putting shares into a nosedive of a kind not seen since April.
I'm targeting $41 a share on the downside — a 15% fall from here.
As of this writing, Anthony Mirhaydari did not hold a position in any of the aforementioned securities.
Endnotes:
[Image]: https://investorplace.com/wp-content/uploads/2010/08/trading_screen_iStock_000007388795XSmall-e1289947313436.jpg
challenging the 16,000 level: https://investorplace.com/2013/11/dow-jones-sp-500-charts/
Compare Brokers: https://investorplace.com/options-trading/broker-center/
SD: http://studio-5.financialcontent.com/investplace/quote?Symbol=SD
CHK: http://studio-5.financialcontent.com/investplace/quote?Symbol=CHK
KOG: http://studio-5.financialcontent.com/investplace/quote?Symbol=KOG
WLL: http://studio-5.financialcontent.com/investplace/quote?Symbol=WLL
OAS: http://studio-5.financialcontent.com/investplace/quote?Symbol=OAS
Source URL: https://investorplace.com/2013/11/5-energy-stocks-to-short/
Short URL: http://invstplc.com/1nvkPip
---