XOM – Warren Buffett Looks to Big Oil With Exxon Stake
by Business Insider | November 15, 2013 8:30 am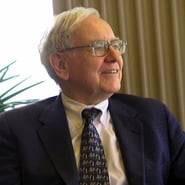 Berkshire Hathaway's (BRK.A[1], BRK.B[2]) latest 13-F filing[3] is out.
According to the filing, Warren Buffett's conglomerate picked up 40,089,371 shares of Exxon Mobil (XOM[4]) in the third quarter.
Exxon has 4.37 billion shares outstanding, so the Berkshire stake amounts to about 1% of the oil giant.
Shares of Exxon Mobil closed higher on Thursday, and were up further in after-hours trading.
At Thursday's closing price of $93.22, a 40,089,371-share stake in Exxon would be worth $3,737,131,164.62.
The stock fell 10.5% between late July and early October before rebounding 9.5% to today's levels.
Read More Here:
Exxon Mobil an Undervalued Dividend Machine [5]
Should Exxon Mobil Still Be Part of Your Retirement Plan? [6]
Endnotes:
BRK.A: http://studio-5.financialcontent.com/investplace/quote?Symbol=BRK.A
BRK.B: http://studio-5.financialcontent.com/investplace/quote?Symbol=BRK.B
latest 13-F filing: http://www.sec.gov/Archives/edgar/data/1067983/000095012313009777/xslForm13F_X01/form13fInfoTable.xml
XOM: http://studio-5.financialcontent.com/investplace/quote?Symbol=XOM
Exxon Mobil an Undervalued Dividend Machine : https://investorplace.com/2013/08/exxon-mobil-xom-an-undervalued-dividend-machine-xom-cvx-res-b-cop/#.UoYhJSf-L08
Should Exxon Mobil Still Be Part of Your Retirement Plan? : https://investorplace.com/2013/08/exxon-mobil-xom-an-undervalued-dividend-machine-xom-cvx-res-b-cop/#.UoYhJSf-L08
Source URL: https://investorplace.com/2013/11/warren-buffett-exxon-mobil-xom-brk-a-brk-b/
Short URL: http://invstplc.com/1nBeMZR
---