Man Finds $1M Scratch-Off Lotto Ticket in Pile of Leaves
by Christopher Freeburn | December 30, 2013 9:55 am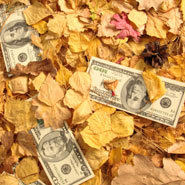 [1]Last year, Marvin Rosales Martinez made a very lucky find while using a leaf blower to clear fallen leaves[2].
Martinez noticed a scratch-off lottery ticket among the leaves he was clearing in October 2012. He took the "Win $1,000 a Week for Life" scratch-off ticket to lottery officials on Nov. 9, 2012 on New York's Long Island, which had been battered by Superstorm Sandy just weeks before, CNN notes.
After taxes, Martinez, who opted for a lump sum payout, will receive $515.612.
Lottery officials conducted an investigation to confirm that the scratch-off ticket was indeed valid and that Martinez was the scratch-off ticket's proper owner. Scratch-off lottery tickets are considered "bearer instruments," meaning that whoever holds the ticket has the right to obtain the prize.
Still, when a winning scratch-off ticket has been found, the lottery usually waits a year before giving the prize to the scratch-off ticket's finder.
After the investigation, the lottery located no reports of lost of misplaced winning scratch-off tickets. Officials said they could not identify any reasons that the scratch-off ticket did not belong to Martinez and no one else stepped forward to claim it.
More Lottery Winners:
Is This You? Surveillance Photo Shows Mystery Powerball Winner[3]
Florida Man Wins Multimillion Lotto Jackpot for Second Time[4]
City Seeks Lottery Winner Who Lost $6.3M Winning Ticket[5]
Endnotes:
[Image]: https://investorplace.com/wp-content/uploads/2010/09/money-in-leaves.jpg
while using a leaf blower to clear fallen leaves: http://newday.blogs.cnn.com/2013/12/29/1-million-ticket-found-in-a-pile-of-leaves/
Is This You? Surveillance Photo Shows Mystery Powerball Winner: https://investorplace.com/2013/11/surveillance-photo-shows-mystery-powerball-winner/#.UsGJDXm1Kf0
Florida Man Wins Multimillion Lotto Jackpot for Second Time: https://investorplace.com/2013/10/florida-man-wins-multimillion-lotto-jackpot-second-time/#.UsGJMHm1Kf0
City Seeks Lottery Winner Who Lost $6.3M Winning Ticket: https://investorplace.com/2013/09/city-seeks-lottery-winner-who-lost-6-3m-winning-ticket/#.UsGJVnm1Kf0
Source URL: https://investorplace.com/2013/12/man-finds-1m-scratch-lotto-ticket-pile-leaves/
Short URL: http://invstplc.com/1fsRMrH
---