MSFT – Microsoft Still a Buy After Touching 13-Year High
by Ed Elfenbein | December 6, 2013 9:43 am

[1]While other stocks were having a tough time this week, Microsoft (MSFT[2]) continued to edge higher. Shares of the software giant reached a 13-year high on Wednesday, before falling back somewhat on the rumor[3] that front-runner for the CEO position, Ford's (F[4]) Alan Mulally, may not step into Steve Ballmer's shoes.
Microsoft also did something interesting. Even though Microsoft is sitting on a ton of cash, they tapped the bond market for $3.25 billion, plus another 3.5 billion in euros.
The reason is that much of MSFT's cash is sitting outside the U.S., and they'd have to pay taxes on it if they brought it home. Also, the company has been increasing its dividend and has committed to buy back a large number of shares.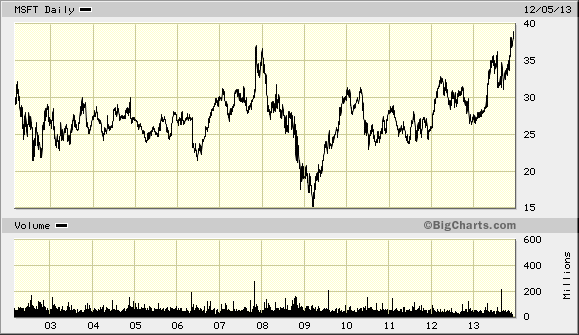 For the five-year bond, Microsoft was able to borrow money at just 1.625%, which is less than the stock's dividend yield of 2.94%. Essentially, the company is making an easy profit by borrowing money.
Microsoft is one of the few companies with a AAA credit rating, so their ability to borrow at inexpensive rates is an incentive to tap the bond market. Microsoft is a winner for us this year, and Microsoft remains a good buy up to $40 per share.
Endnotes:
[Image]: https://investorplace.com/wp-admin/microsoft-msft
MSFT: http://studio-5.financialcontent.com/investplace/quote?Symbol=MSFT
on the rumor: http://investorplace.com/2013/12/msft-microsoft-alan-mulally-msft-ceo-f/
F: http://studio-5.financialcontent.com/investplace/quote?Symbol=F
Source URL: https://investorplace.com/2013/12/microsoft-msft-alan-mulally-f/
Short URL: http://invstplc.com/1nskux0
---