3 Power Stocks With Heavy Insider Selling at Year's End
by Ethan Roberts | January 2, 2014 1:31 pm
Investors often get a sinking feeling in the pit of their stomachs when they see company insiders selling shares of their own company stock. If you are long that stock, you have to decide whether or not to let the insiders' actions influence your investment strategy.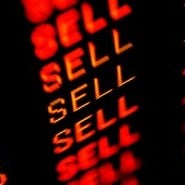 [1]However, as I have previously detailed[2], insider selling often had no bearing on the future performance on those stocks. Insiders may be selling for purely personal reasons, such as buying a new home, getting a divorce, or leaving the board of directors of that company.
In addition, automatically timed and option sales are also usually insignificant. Furthermore, if only one corporate officer is selling, I give it less weight.
Finally, company insiders, just like many other investors, may prudently choose to take some profits after a big run up in the price of their stock. Stocks frequently continue higher, even after they lock in their profits.
So when I look for insider sales that are more likely to be significant, I am looking for at least several of the following:
Significant selling done without major announcements or fanfare.
A large number of corporate insiders all selling within a short period of time.
The sales are made on the open market.
The number of shares sold and subsequent dollar amounts realized are quite large.
The insider(s) has a previous history of selling near the peak of the stock's price.
Selling occurs after a large decline in the share price of the stock. This may indicate that insiders have little faith that their stock is going to rebound.
As 2013 came to its conclusion, I found 3 stocks in which the end-of-year selling appeared to be significant. That doesn't mean you should sell immediately, but you may want to plan some hedging strategies, such as selling calls with strike prices just above the current stock price, or even buying an inexpensive long-term put.
Here are three stocks with recent significant looking insider sales:
Cheniere Energy (LNG)

[4]Cheniere Energy (LNG[5]) is an energy sector company that operates liquefied natural gas related businesses. In the month of December, four insiders at LNG sold huge numbers of shares, generating millions of dollars for themselves.
Chairman, CEO & President Charif Souki sold 300,000 shares for $43.81, collecting $13.14 million from the sale
Meg Gentle, senior vice president of marketing, sold 240,000 shares at $41.17, generating $9.88 million for herself
Jean Abiteboul, another senior vice president, sold 60,000 shares for $41.97, harnessing a cool $2.52 million
Director Vicky A. Bailey sold 2,150 shares for $42.85, generating $92,120
All of these were direct sales made on the open market — not scheduled, automatic sales. LNG ran up from $27 to $46 during 2013, so it's not surprising to see some insiders who could simply be taking profits here. However, recent down days in the stock have been on some stronger than normal volume, so perhaps it's time for investors to pay closer attention.
Natural gas prices have been creeping up, and that could hurt the bottom line of a company like LNG, which also manufactures products that use natural gas for fuel.
Facebook (FB)

[6]I am reluctant to include a relatively new IPO stock in this group, because it's very possible that company insiders could simply be taking some profits after the first run-up of Facebook (FB[7]) stock. However, the large number of shares recently being sold in social media company make me suspicious, and I wonder if insiders think their stock is fully valued for the moment.
In the month of December, CEO Mark Zuckerberg sold 41,350,000 shares for $55.05, generating $2.28 billion from the sale! Meanwhile, Director Marc L. Andreessen sold 1,645,239 shares for $55.05, garnering a slick $90.57 million.
Andreessen had also sold shares in early November, taking in more than $59 million from that transaction. A number of other insiders also sold large numbers of shares, but they were automatic sales, making them less significant in terms of stock price performance.
So is Facebook a sell? Not necessarily, although it does still look a bit overextended for the short term, even after declining from $57.50 to the current price of $54.65. In fact, on any further drop to the 50-day moving average of $50.26, investors might do well to pick up some shares for the long term.
Monster Beverage (MNST)

[8]Shares of Monster Beverage (MNST[9]) were sold by the following insiders:
Chairman and CEO Rodney C. Sacks sold 130,000 shares for $60.52, pocketing $7.87 million
Vice Chairman and President Hilton H. Schlosberg sold 130,000 shares for $60.50, generating $7.87 million from the sale
Senior VP Thomas J. Kelly sold 8,804 shares for $59.40, picking up $522,958 from the sale
Monster is sporting a very lofty P/E of 35 today, and the stock has run up about 32% since October, so investors who own this stock should be really careful going forward. The RSI and Stochastic indicators are quite overbought, and while overbought doesn't mean done, the stock at this lofty perch does entail more risk.
A lawsuit was recently filed against Monster in San Francisco, saying its high-caffeine drinks were dangerous to teenagers, but so far nothing has really come of that. Sales of their Monster drinks continue to be very strong.
So take heed of the insider selling at these 3 companies, and consider the hedging strategies I mentioned … but don't push the panic button yet. There are good reasons why all three have been stellar performers over the last 12 months, and those reasons will probably continue for a while longer.
As of this writing, Ethan Roberts did not own a position in any of the aforementioned securities.

Endnotes:
[Image]: https://investorplace.com/wp-content/uploads/2010/08/trading_screen_iStock_000007388795XSmall-e1289947313436.jpg
I have previously detailed: https://investorplace.com/2013/09/when-is-insider-selling-a-bad-sign/
Compare Brokers: https://investorplace.com/options-trading/broker-center/
[Image]: https://investorplace.com/wp-content/uploads/2011/02/cqp.jpg
LNG: http://finance.yahoo.com/q?s=LNG
[Image]: https://investorplace.com/wp-content/uploads/2012/05/Facebook185.jpg
FB: http://studio-5.financialcontent.com/investplace/quote?Symbol=FB
[Image]: https://investorplace.com/wp-content/uploads/2012/03/MonsterEnergy185.jpg
MNST: http://studio-5.financialcontent.com/investplace/quote?Symbol=MNST
Source URL: https://investorplace.com/2014/01/3-power-stocks-strong-insider-selling-years-end/
Short URL: http://invstplc.com/1nujJUm
---