3 Top Buyout Targets for 2014
by Dan Burrows | January 3, 2014 11:30 am
Buyout activity is back on track after years of a sleepy deal landscape. For the 12 months ended Nov. 30, a total of $995.4 billion in mergers and acquisitions were struck in the U.S., up 18% over the year-ago period. That's a trend that should only accelerate in 2014.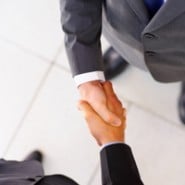 [1]For one thing, companies are sitting on record levels of cash, and they can't spend all of it on dividends and stock buybacks. Interest rates have been rising since last summer, but debt financing is still cheap relative to historical averages. That makes companies eager to borrow cash at low rates while they still can.
Buyouts and other forms of dealmaking are a bullish sign for stocks, and usually great news for anyone holding shares in the buyout target. After all, shares in the company being acquired almost always fetch a hefty premium to market prices.
Furthermore, buyout activity often spurs even more deals, either because competitors feel like they need to get bigger in order to compete or because regulators insist on some divestiture of assets in exchange for approval, which puts even more assets into play. If for no other reason, that's why buyout activity seems to feed on itself.
There's no shortage of speculation on which companies are buyout targets in 2014, but here are three of the more prominent — and promising — names worth betting on:
Buyout Target: Cracker Barrel Old Country Store (CBRL)

[3]52-Week Stock Performance: +70%
Market Cap: $2.6 billion
Cracker Barrel Old Country Store (CBRL[4]) insists it's not for sale — but we've all heard that one before. How else do you hold out for a higher buyout offer?
Activist investor Sardar Biglari — CBRL's largest shareholder with an almost 20% stake — is calling for the restaurant and gift shop operator to put itself up for sale. Biglari's even willing to buy out CBRL himself.
Cracker Barrel management has outright dismissed the buyout proposal, saying it intends to stay the course — no matter how withering the criticism gets. CBRL was lambasted for pulling Duck Dynasty merchandise from its stores, only to reverse the decision a day later.
CBRL has had a good year — the stock is up 70%, largely on the buyout talk — but Biglari isn't going away. As long as he keeps banging on about a buyout, CBRL shares should have a floor and more upside ahead.
Buyout Target: Time Warner Cable (TWC)

[5]52-Week Stock Performance: +37%
Market Cap: $38 billion
Time Warner Cable (TWC[6]) — the nation's No. 2 cable company after Comcast (CMCSA[7]) — is high on traders' buyout wish list, and they just might get what they want in 2014.
Cable companies are still somewhat regional businesses, and the industry needs further consolidation to improve its negotiating position with heavyweight media companies like Walt Disney's (DIS[8]) ESPN.
Time Warner Cable would be quite a prize, and it doesn't have a single large shareholder to block or complicate a buyout offer. More importantly, it has a voracious and relentless pursuer.
Cable mogul John Malone has taken a 27% stake in Charter Communications (CHTR[9]) with eyes on TWC. Indeed, reports have Charter readying a buyout proposal worth $140 a share.
It gets better. Rivals like Comcast aren't likely to sit still while a competitor tries to buyout Time Warner Cable. That raises the chances for buyout bidding war. Either way, TWC should trade higher on buyout speculation — and the eventual buyout, too.
Buyout Target: T-Mobile U.S. (TMUS)

[10]52-Week Performance: +67%
Market Cap: $25 billion
It seems like anyone not named AT&T (T[11]) or Verizon (VZ[12]) is a buyout candidate in the telecom business, and that's especially true for T-Mobile (TMUS[13]).
Market speculation has not one, but two potential suiters looking to bulk up with T-Mobile to make a better go at AT&T and Verizon, who dominate the wireless market.
Sprint (S[14]) — which just went through its own buyout when Japan's Softbank (SFTBY[15]) took majority control — is seen as the most likely company to buyout T-Mobile. Combing the No. 3 and No. 4 wireless carriers makes sense on paper, but it's not clear how tying two bricks together will make them float.
A buyout bid from Dish Network (DISH[16]) could also be in the works. Dish has made no secret of its desire to buyout a wireless carrier. Indeed, it was set to buyout Sprint before Softbank swooped in. Either way, it's clear that T-Mobile is not long for this market under its current ownership structure.
As of this writing, Dan Burrows did not hold a position in any of the aforementioned securities.
Endnotes:
[Image]: https://investorplace.com/wp-content/uploads/2010/10/iStock_000003869232XSmall-e1287685405750.jpg
Compare Brokers: https://investorplace.com/options-trading/broker-center/
[Image]: https://investorplace.com/wp-content/uploads/2012/06/CrackerBarrel185.jpg
CBRL: http://studio-5.financialcontent.com/investplace/quote?Symbol=CBRL
[Image]: https://investorplace.com/wp-content/uploads/2013/08/Time_Warner_Cable.jpg
TWC: http://studio-5.financialcontent.com/investplace/quote?Symbol=TWC
CMCSA: http://studio-5.financialcontent.com/investplace/quote?Symbol=CMCSA
DIS: http://studio-5.financialcontent.com/investplace/quote?Symbol=DIS
CHTR: http://studio-5.financialcontent.com/investplace/quote?Symbol=CHTR
[Image]: https://investorplace.com/wp-content/uploads/2014/01/T-Mobile-185.jpg
T: http://studio-5.financialcontent.com/investplace/quote?Symbol=T
VZ: http://studio-5.financialcontent.com/investplace/quote?Symbol=VZ
TMUS: http://studio-5.financialcontent.com/investplace/quote?Symbol=TMUS
S: http://studio-5.financialcontent.com/investplace/quote?Symbol=S
SFTBY: http://studio-5.financialcontent.com/investplace/quote?Symbol=SFTBY
DISH: http://studio-5.financialcontent.com/investplace/quote?Symbol=DISH
Source URL: https://investorplace.com/2014/01/buyout-stocks-mergers-acquisitions/
Short URL: http://invstplc.com/1hTPPEN
---