Alcohol & Cocktails: Top Trends for 2014
by Christopher Freeburn | March 25, 2014 12:04 pm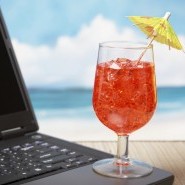 [1]According to data reviewed by newBrandAnalytics, margaritas and mojitos are gaining popularity[2] among alcohol drinkers.
The firm analyzed data from reviews posted on websites including Yelp (YELP[3]), TripAdvisor (TRIP[4]) and OpenTable (OPEN[5]), as well as social media sources like Twitter (TWTR[6]) and Facebook (FB[7]) to assess what people are saying about their preferred alcohol-based drinks and cocktails. newBrandAnalytics sifted through in excess of 40,000 drink and cocktail covering 100 trendy restaurants nationwide, Restaurant News notes.
So, what are people looking for in alcohol and cocktails this year?
Gin, rum and whiskey are getting more social media mentions, while mentions of vodka, sake and tequila remain stable.
Cider and craft beers show rising popularity.
Orange, mango, watermelon and pear are margarita flavors showing the fasted increase in popularity.
Martini flavors showing increasing popularity are grapefruit, lychee, pear and passionfruit.
Among margarita and martini drinkers, strawberry and pomegranate are still popular flavors.
Raspberry, passionfruit, pineapple and mango remain popular Mojitos flavors.
More Alcohol News:
Study: James Bond's Likely Demise? Death By Alcohol[8]
Elizabeth Vargas Admits She's an Alcoholic[9]
Survey: One-Sixth of Unemployed Workers Addicted to Drugs or Alcohol[10]
Endnotes:
[Image]: https://investorplace.com/wp-content/uploads/2011/05/iStock_000002705090Medium-e1305649990181.jpg
margaritas and mojitos are gaining popularity: http://nrn.com/beverage-trends/cocktails-featuring-tropical-fruit-berries-garner-buzz
YELP: http://studio-5.financialcontent.com/investplace/quote?Symbol=YELP
TRIP: http://studio-5.financialcontent.com/investplace/quote?Symbol=TRIP
OPEN: http://studio-5.financialcontent.com/investplace/quote?Symbol=OPEN
TWTR: http://studio-5.financialcontent.com/investplace/quote?Symbol=TWTR
FB: http://studio-5.financialcontent.com/investplace/quote?Symbol=FB
Study: James Bond's Likely Demise? Death By Alcohol: https://investorplace.com/2013/12/study-james-bonds-likely-demise-death-alcohol/#.UzGoMdxhOf0
Elizabeth Vargas Admits She's an Alcoholic: https://investorplace.com/2014/01/elizabeth-vargas-alcoholic/#.UzGoNtxhOf0
Survey: One-Sixth of Unemployed Workers Addicted to Drugs or Alcohol: https://investorplace.com/2013/11/survey-one-sixth-unemployed-workers-addicted-drugs-alcohol/#.UzGoSNxhOf0
Source URL: https://investorplace.com/2014/03/alcohol-cocktails-top-trends-2014/
Short URL: http://invstplc.com/1dn4eve
---