Global research firm Panjiva published a great infographic to ponder at your Fourth of July cookout.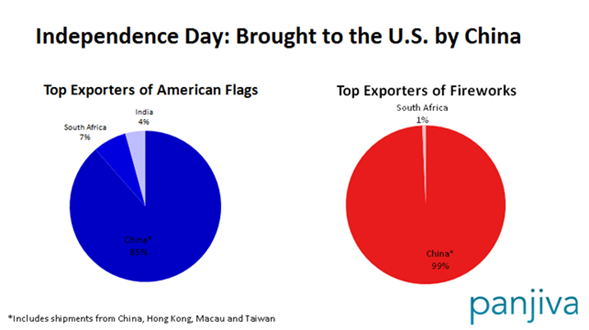 China, by a landslide, is the biggest exporter of American flags and fireworks, at 85% and 99%, respectively.
Interestingly, South Africa is the next biggest exporter of both, at 7% and 1%, respectively. India is the only other significant exporter of America flags, at 4%, and there are no other significant exporters of fireworks.
A couple points need clarifying.
For one, these are American flag exports; not total production.
And there is only one significant buyer for American flags: the United States of America. So, while there are plenty of American flags made right here in the good ol' US of A, they are all made for domestic use, not export.
Another way to interpret this chart would be that Americans are so patriotic and enjoy flying the stars and stripes so much this time of year, we cannot make enough domestically to satisfy demand and thus have to import from China, South Africa and India.
Just a little brain candy for the holiday.
To all my American readers, have a safe and happy Independence Day with your families.
Charles Lewis Sizemore, CFA, is the editor of Macro Trend Investor and chief investment officer of the investment firm Sizemore Capital Management. Click here to receive his FREE weekly e-letter covering top market insights, trends, and the best stocks and ETFs to profit from today's best global value plays.