Inflation hasn't been a problem for a long time. In fact, central banks around the world have been fighting deflation, as low growth, pessimistic expectations and slumping oil prices kept prices in check since the 2008/09 crash.
That's changing, and more people—from economists to everyday consumers—see inflation heating up. That makes now a great time to buy into an asset class few investors pay attention to. I'll explain why, and name two of my favorites, in a moment.
First, back to inflation: according to the New York Federal Reserve, consumers now expect prices to swell by 2.8%—the highest reading since the middle of 2015. No real surprise there, when you consider that the consumer price index is rising at its fastest pace in over a year:
Inflation Is Back


Economists, for their part, predict higher inflation for the next five years:
Everyone Sees Prices Rising


If you're trying to allocate your portfolio between stocks and bonds, higher inflation will have enormous implications for you, including a drop in the value of US Treasuries.
This is already happening, and many risk-averse investors are already panicking. To demonstrate this, we just need to look at how Treasury ETFs have done over the last year. We would expect the shorter-duration funds to do better than those with longer durations, but all have had pretty bad returns.
A quick look at the iShares 1–3 Year Treasury Bond Fund (SHY), 3-7 Year Treasury Bond Fund (IEI), 7–10 Year Treasury Bond Fund (IEF) and 20+ Year Treasury Bond Fund (TLT) confirms this:
"Safe" Treasuries are Tanking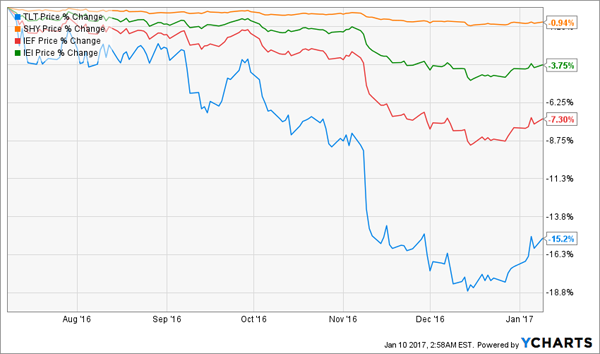 Looking at this chart, you might be tempted to think all the pain is already priced in. It isn't.
If we go back seven years, to just after the global financial meltdown and the dawn of the market recovery, we see that the long-term bond funds above have all posted double-digit price gains to this day:
Not a Full Correction Yet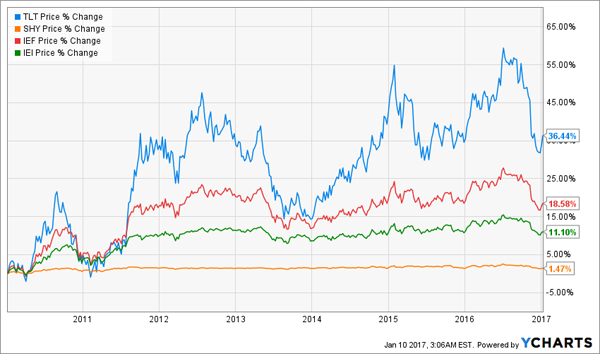 It looks like the long-term bond funds have not yet corrected from their steep appreciation during years and years of weak inflation and expected deflation. Many people believe higher inflation is coming, but not everyone is convinced; as a result, the steep sell-off in Treasuries has only begun.
If it continues, I don't want to be there.
Where do I want to be instead?