It's a question I get a lot, both from members of my Contrarian Income Report service and folks who drop by our ContrarianOutlook website:
How do you invest your own nest egg?
I'll answer it in just a moment.
I was reminded of this question again last week, when I was looking at the returns of the Vanguard Dividend Appreciation ETF (VIG)—and thinking about how dead simple it would be to beat the fund's return over the long haul.
All it would take is the slightest bit of research.
Big on Hype, Short on Performance
VIG is one of the best cases I've seen of an investment taking an inherent advantage and getting nothing out of it.
The fund tracks the NASDAQ US Dividend Achievers Select Index, which includes 184 companies that have raised their payouts annually for at least 10 years. For that reason, it gets a lot of airtime from the pundits, who regularly peg it as a proxy for dividend growers in general.
And if you've read my columns, you know I'm a big fan of dividend-growth stocks.
The reason: they consistently rack up some of the market's biggest gains.
What I consider the leading study on the subject, by research firm Ned Davis & Associates, proves it. After sifting through 43 years' worth of data, from January 1972 through December 2014, Davis's researchers found that dividend growers topped all other types of stocks.
It wasn't even close: with a 10.1% average annual return, they blew away steady payers (7.1%) and non-payers (2.6%).
So VIG should easily beat the S&P 500, then, right?
Wrong.
Stretch it over any timeframe: one year, three years, five years, 10 years and since VIG's inception in 2006, and at best your return would have just barely squeaked past the market's.
Dividend-Growth Edge Goes AWOL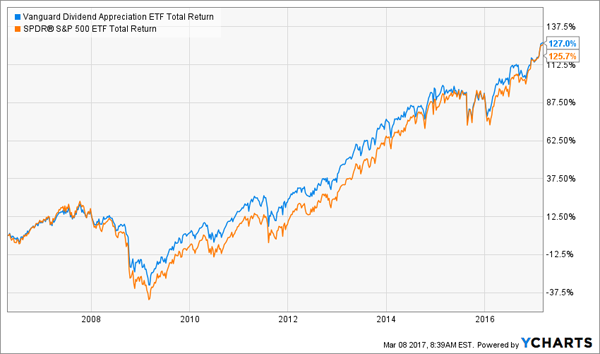 That's disappointing, given VIG's built-in edge.
Now let's go one step further and pick the five fastest dividend growers among VIG's top 10 current holdings (without even getting into P/E ratios, earnings history, revenue growth and the like) over the past decade.
Those five stocks are CVS Health Corp (CVS), Walgreens Boots Alliance Inc (WBA), Microsoft Corporation (MSFT), PepsiCo, Inc. (PEP) and Medtronic (MDT).
A quick backtest shows that all but one (Medtronic) have outperformed VIG:
Active Investing Wins Again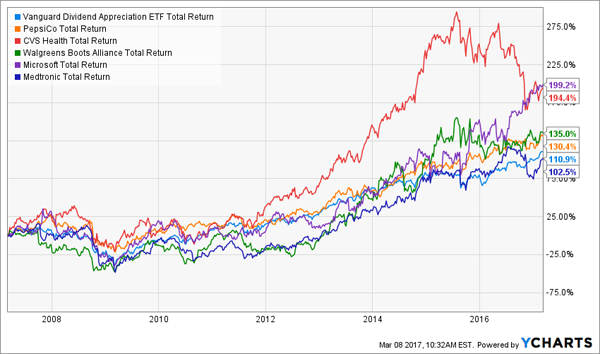 Holding these five would have handed you a 152.3% total return, compared to 110.9% for VIG, as their relentless dividend growth (ranging from 150.8% for PepsiCo to a massive 733.3% for CVS) squeezed their share prices higher.
And that's just the result of a fairly "dumb" dividend-growth strategy. Now let's see what happens when we add just a little more refinement.
Which brings me to…