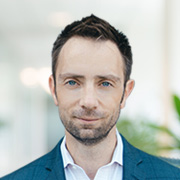 Matt McCall
Editor, MoneyWire
Matt McCall is the founder and president of Penn Financial Group, an investment advisory firm serving individual and institutional clients. He also travels extensively and speaks to thousands of individual investors each year about investing and personal finance. Over the last decade, he has focused his energy on individual stocks as well as exchange-traded funds (ETFs), becoming one of only a few analysts to offer expertise in both areas. This concentration on stock selection has cultivated a precise top-down, macro-to-micro strategy to maximize profits and manage risk.
Matt's next-generation approach to investing goes back to his first days as a stockbroker at Charles Schwab 17 years ago. He loved much about the job, but there was also much he didn't love, and Matt soon realized there were better ways to serve his clients and better stocks to invest in than the same ones the rest of Wall Street focused on.
He is known across Wall Street for his extensive technical analysis expertise, and his insightful chart analysis leads to precise buy and sell points in the best stocks and ETFs that pass his extensive top-down screenings. His outstanding track record speaks for itself. Across his multiple newsletters, more than 80% of his recommendations since 2015 have been profitable for his subscribers.
Matt is now pleased to bringing his expertise, passion and commitment to a bigger group of individual investors. He believes deeply in helping people build their wealth through next-generation investing strategies, and he also an advocate of educating investors so they understand exactly how these investments work for them.
Matt is also the author of two books on investing, starting with "The Swing Trader's Bible: Strategies to Profit from Market Volatility." His second book, "The Next Great Bull Market: How to Pick Winning Stocks and Sectors in the New Global Economy," was a top-selling investment book for more than two years.
Matt's extensive background in investing and the media make him a highly sought-after speaker and guest. He served as the chief technical analyst as well as co-host of "Winning on Wall Street," a daily national radio show, and has over 1,500 television appearances in the last 10 years. He is also a former co-host of a daily investment show on Fox Business Network, has contributed to the Fox News Channel, and appeared daily as a panelist on Fox Business Network's "Making Money with Charles Payne."
Matt's education includes a bachelor's degree in Finance from Kutztown University and an MBA in Finance from the University of Colorado.

Join Matt McCall's MoneyWire — FREE!
Get Matt McCall's market analysis & stock recommendations to profit from today's biggest emerging megatrends.
Premium Services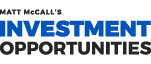 Matt McCall doesn't believe in buying, holding and hoping for eventual gains. His Investment Opportunities are in potent megatrends, with stocks that meet his three-factor test: strong fundamentals, technicals and "intangibles," like demographics and hot consumer trends.
Stocks

Moderate

Monthly trades

Early Stage Investor reflects Matt McCall's belief (and experience) that life-changing profits come to early investors. That means spotting breakthrough innovations before Wall Street catches on — and the highest-quality investments that let you cash in.
Stocks

Aggressive

Monthly trades

Matt McCall designed his unique Cannabis Cash Weekly system to help investors ride the wealth-creating tsunami of marijuana legalization… and earn huge weekly paychecks along the way.
Options (Covered Calls)

Moderate

Weekly trades
Recent Articles
If you are bold enough to act now, there is potential for life-changing profits in cannabis stocks.
Even as stocks are under pressure, cannabis continues to proceed down the path toward full legalization. It is closer now than ever.
Even beyond China's strong support of biotech, there are seven more reasons why investing in the sector will be one of the best wealth-building opportunities of the next 20 years.
Investing in Chinese biotech stocks today is similar to getting into U.S. biotech back in the 1990s.
Investing in industries with huge growth potential and gale-force tailwinds at their backs is how you set yourself up to make giant returns.