Cannabis stocks traded well last week, and our Akerna (KERN) shares were one of the biggest beneficiaries as the stock popped 35% to close the week at $8.16. It touched $8.25 on Friday, which matches our net debit on the trade, so our patience has paid off as the stock has rallied more than 140% in the first five weeks of 2021.
News flow around the sector continues to be quite positive, with the biggest catalyst on the horizon being the potential decriminalization and eventual legalization of cannabis. Last week, Senate Majority Leader Chuck Schumer as well as Senators Rony Wyden and Cory Booked said they plan to issue a draft for comprehensive cannabis reform "in the early part of this year."
In particular, the plan is to move legislation forward that would "deschedule" marijuana, which means remove it from the list of controlled substances. President Joe Biden and Vice President Kamala Harris talked about this during the campaign, and it would be another major step toward legalization.
Industry news was also positive last week as Jazz Pharmaceuticals (JAZZ) announced it is acquiring GW Pharmaceuticals (GWPH) for $7.2 billion. GW has been a pioneer in developing cannabis-based therapeutics, including Sativex for multiple sclerosis and Epidiolex for epilepsy. That's a hefty price tag and indicates that things are heating up.
Through it all, the ETFMG Alternative Harvest ETF (MJ) increased 22.6% for the week and is trading at its best level since the fall of 2019. Volume has also picked up, which is good to see.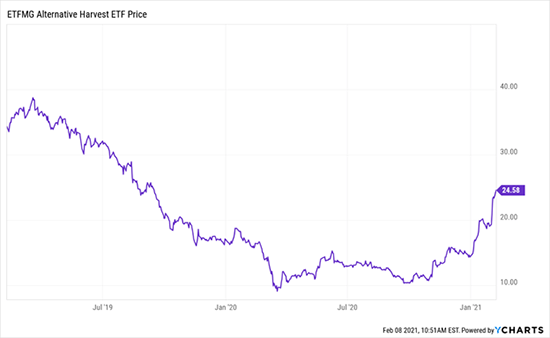 I'm sure you've heard about the craziness in GameStop (GME) and AMC Entertainment (AMC), with Reddit group members buying the stocks in big numbers and squeezing the short sellers. This has caused extreme volatility in those stocks and overwhelmed brokers like Robinhood to the point where they have had to limit trading in the shares.
I mention this because some cannabis stocks also have high short interest, so it's something I am watching closely as I analyze potential trade opportunities for us. I will let you know as soon as we get our next one.
Have a great week.
Until next time,

Matt McCall
Editor, Cannabis Cash Weekly