I hope you enjoyed the holiday weekend – if you happened to be off yesterday. I have mixed feelings about Mondays when the markets are closed, especially when they are also closed in Hong Kong and China. I like a little down time, but I admit that I spend a lot of it looking at stocks.
I looked particularly close at cannabis stocks, which went on a wild ride last week. That's why we stayed out of the frenzy. Canadian cannabis stocks became the target of the Reddit crowd, which caused even wilder trading in GameStop (GMC) and AMC Entertainment (AMC). The market is still dealing with the ramifications.
After a big rally to begin the week – a continuation of the prior week – the sector got crushed.
The ETFMG Alternative Harvest ETF (MJ) hit a high of $34.58 on Wednesday, plummeted 33% to a low of $23.20 Friday morning, and then bounced 6% to close Friday at $24.54.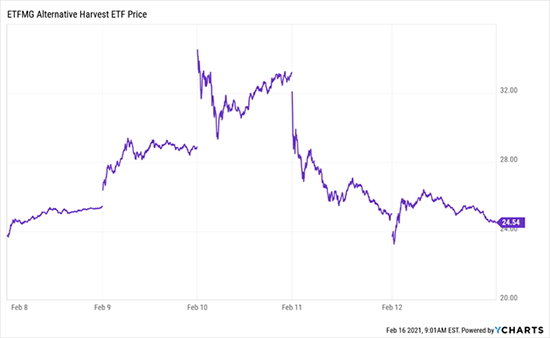 The U.S.-based cannabis companies were also hit with some volatility, but nothing like their Canadian counterparts. The AdvisorShares Pure U.S. Cannabis ETF (MSOS) is within 2% of a new all-time high this morning, and it appears a new breakout is imminent. Speaking of MSOS, there are weekly options on the ETF itself, and that looks like it will be our first way to play the U.S. cannabis stocks that are clearly better positioned in the near and long term.
We took advantage of the big move in stocks and sold our shares in Akerna (KERN) last week, as they rallied 375% from their lows in late October and early November to their highs last Wednesday. We were rewarded for our patience, and I am glad we locked in our profits before the stock pulled back Thursday and Friday.
It's a holiday-shortened week, but be on the lookout for at least one new trade. We may even be able to take advantage of options expiration day this Friday and initiate more than one.
Have a great week.
Until next time,

Matt McCall
Editor, Cannabis Cash Weekly