Cannabis stocks outperformed the market last week after pulling back to end the prior week. Both the AdvisorShares Pure US Cannabis ETF (MSOS), which measures U.S. cannabis stocks, and the broader ETFMG Alternative Harvest ETF (MJ) finished in the green with the S&P 500 down slightly.
The sector as a whole has been volatile due to the WallStreetBets crowd on Reddit buying and then selling stocks. You can see it in MJ's action below.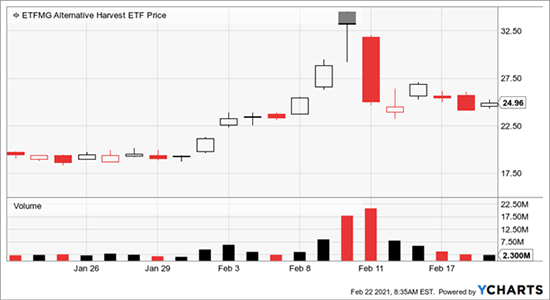 Since volatility and volume started picking up on February 9, U.S.-based cannabis stocks have held up much better. The niche sector has stayed above short-term support, suggesting that a new rally is about to begin.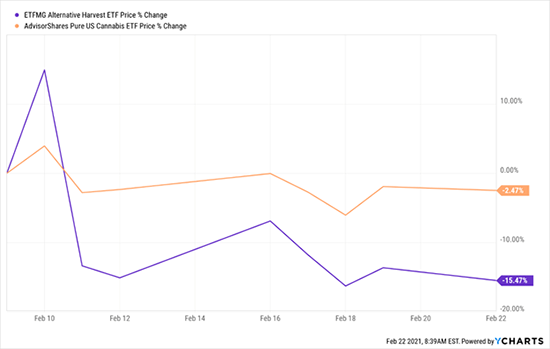 That is why we initiated a new trade in MSOS last week. The ETF closed below the $55 strike price on the calls that we sold, and it comes into this week trading just below our net debit of $52.06. Our goal was to get in for less than $52.15.
If there is strength this week, we will look to sell another weekly call option that expires this Friday to collect our next payout.
And with the chart indicating a possible rally, we'll be on the lookout for at least one new trade early in the week to take advantage.
News on the legalization front has been pretty quiet recently, but I expect it to pick back up shortly. Any positive developments could be the catalyst that sends the sector to new highs.
Have a great week.
Until next time,

Matt McCall
Editor, Cannabis Cash Weekly