Stock futures indicate a bounce at the open today, starting this week on an up note after pulling back from highs in the last two weeks as money flowed out of high-growth sectors. Cannabis is one of the areas that investors focus on when searching for growth, and the industry took a hit last week.
Both the U.S.-based and international cannabis ETFs dropped more than 6% as profit-taking hit the sector.
The lone holding in our portfolio is the AdvisorShares Pure US Cannabis ETF (MSOS). It closed last week at $47.89, below our net debit of $52.06. My hope was to sell a new covered call last week, but the selling kept us on the sidelines.
We may get our chance this week. I expect a bounce that will give us an opportunity to sell a new covered call against the ETF to collect another payout. It has pulled back to an important level that was once resistance and now looks to be turning into support. If that support holds –MSOS is up premarket – that's a bullish signal.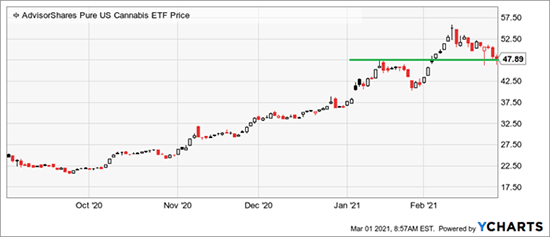 In addition, the pullback last week and continued volatility could well present a buying opportunity for the whole cannabis sector. If so, I'm hopeful we would get a good chance to open a new trade or two.
Have a great week.
Until next time,

Matt McCall
Editor, Cannabis Cash Weekly