The sell-off in assets perceived as risky continued last week, and cannabis stocks were among those that took a hit.
There is one bit of good news in all this, though. Cannabis was a short-term overbought sector, but it isn't anymore. It has pulled back to levels that are once again attractive in both the long and short term.
The AdvisorShares Pure US Cannabis ETF (MSOS) is now down 20% from its all-time high a month ago. The pullback found support around the $40 level last week before shares rallied into the close on Friday. The ETF ended the week at $44.85, which is just a hair below its 50-day moving average (the blue line).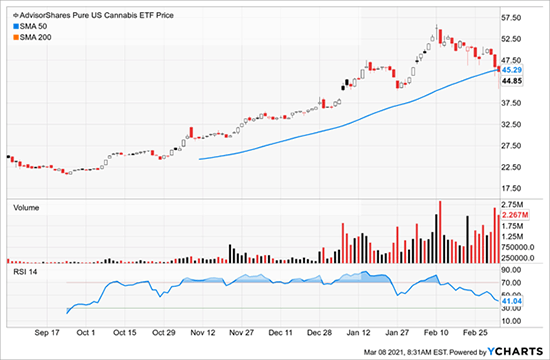 Notice, too, the relative strength index (RSI) at the bottom of the chart. Those shaded blue zones above 70 are where MSOS is considered overbought, and you can see it has spent considerable time there in recent months. The current RSI is 41, and below 50 is generally seen as a buy signal.
So even with the pullback, the chart still looks bullish, and I believe a rally is right around the corner. The question is whether any type of bounce is sustainable. A lot of that will be determined by the overall market as well as the cannabis sector specifically.
If I start to see a bounce, the next move will be to enter a new trade for a rally off support. We may also get a chance to sell more calls against MSOS. We may need to remain patient a little longer, as we do not want to attempt to catch a falling knife.
I'll be in touch if a bottom looks to have formed and we get a favorable trade set-up.
Until next time,

Matt McCall
Editor, Cannabis Cash Weekly