After breaking out in early February, cannabis stocks have been stuck in a pattern of rallies and pullbacks over the last two months. Even though the news continues to improve and the long-term outlook is fantastic, short-term volatility remains high.
The ETFMG Alternative Harvest ETF (MJ) is down about 1% in today's trading, and that follows an up-and-down week in which it lost 0.8%. Our AdvisorShares Pure US Cannabis ETF (MSOS) is down less than 1% and was basically flat (down 0.4%) last week.
In the last few days, cannabis stocks look as if they have started to consolidate in the middle of the wide trading range of 2021.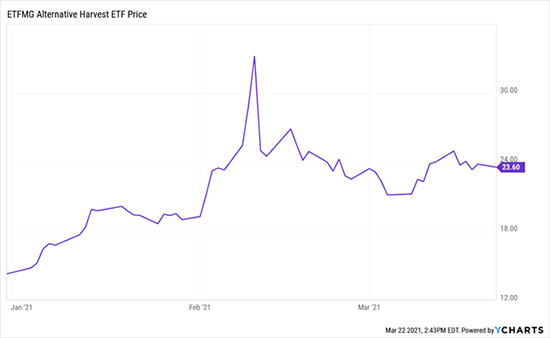 It's disappointing because news that New York state could soon legalize recreational cannabis should have stocks moving higher. According to BTIG, recreational sales in New York state could reach $3.5 billion by 2023. The highly populous state would be a boom to any cannabis companies that have a sizable presence there.
This is great news for the entire sector, especially the U.S.-based cannabis companies. As you know, I'm especially bullish on U.S. companies with the ever-increasing likelihood of cannabis decriminalization and the opening of the banking sector to the industry.
The big frustration right now is that the U.S. stocks remain on the over-the-counter (OTC) markets and do not offer options, so we cannot execute our covered calls strategy. I have been hoping this will change with decriminalization and the banking sector becoming available, but the government is dragging its feet, as usual.
I'd like to see signs of movement, but as we wait, we are looking at the current options situation for the cannabis sector for the remainder of 2021. I will share our thoughts with you soon. And if we get any opportunities in the meantime, I will be sure to let you know.
Until next time,

Matt McCall
Editor, Cannabis Cash Weekly