It was a tough week for cannabis stocks, but amid the current weakness, the long-term outlook remains bullish as another major state is about to legalize recreational marijuana use.
The cannabis sector pulled back last week as it continues to trade in a range over the last six weeks after a brief spike in early February. The ETFMG Alternative Harvest ETF (MJ) is up 55% here in the first quarter, but it is flat over the last month and is now right in the middle of its recent trading range between $20 and $25.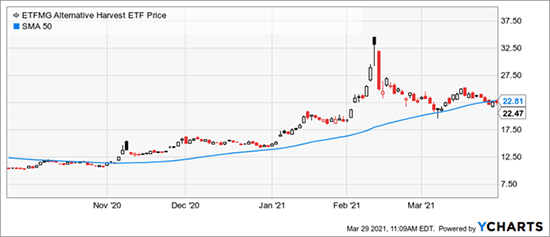 The ETF is also trading right around its 50-day moving average (the blue line), which has been rising over the last five months and has largely held as support.
This week could be a little unpredictable, with overall volatility up today on forced selling after margin calls were issued Friday and as the Archegos Capital firm was forced to sell shares last week after running into problems. Margin calls force clients to add funds to their account, and if they don't, brokerage firms can sell stocks out of the account to generate the required capital.
In addition, we have a short trading week with the market closed on Friday. Plus we have the end of the quarter on Wednesday, which could result in some buying and selling as portfolio managers buy the hot stocks and sell the losers (called "window dressing") and pension funds rebalance.
But if we pop our heads above the short-term volatility and cannabis stocks trading in a range, we continue to see the trend to expanding legalization. New York could officially legalize recreational cannabis use as soon as tomorrow after a deal was reached over the weekend with legislators and Governor Cuomo. His administration says legalization could bring in about $350 million a year.
More than 35 states now allow cannabis for medical use, recreational use, or both. New York allowed medical use five years ago, and now it is adding recreational use.
The growing number of states legalizing cannabis combines with a greater likelihood of change in Washington, D.C., with an administration open to it and greater power in Congress. As we've talked about, decriminalization will likely happen first on the federal level, but that would be a big catalyst itself and surely pave the way for full-blown legalization.
It's a bit of a long and winding road, but there is still a lot of money to be made, especially in U.S.-based stocks. That's why we own AdivsorShares Pure US Cannabis ETF (MSOS), which has also pulled back to the lower end of its recent range between $40 and $50. There is a strong chance the bottom of the range will hold up as support, so I continue to look for a rally back toward $50 and our current cost basis, which is just above that. I will keep you posted.
Until next time,

Matt McCall
Editor, Cannabis Cash Weekly