About Fry's Investment Report
In Any Asset… in Any Country… in Any Direction
Wall Street has sold investors on the idea that they should start with "micro" analysis.
That's the idea that they should make investment decisions by comparing things like price/earnings ratios, income statements, or other company details.
But in Fry's Investment Report we do the opposite.
We start with the "macro" analysis.
We look for big-picture trends that drive huge, multiyear moves in entire sectors of the market.
 In any asset… in any country… in any direction.
The type of trends that can spin off dozens of triple- and even quadruple-digit gains in a span of a few years. It's not an exaggeration when I say that catching just one of these trends — at the right time — can help anyone build wealth.
When investors use the global macro strategy, they identify investment opportunities from a broad, global, top-down perspective, rather than by examining stocks one by one (a micro, bottom-up perspective).
Global macro traders dig up moneymaking opportunities by watching and going deep on interest rates, business cycles, disruptive technologies, stock valuations, geopolitical events, commodity price trends… and even further afield.
I like to say that we look for opportunities in any asset… in any country… in any direction.
Global macro opens us up to an abundance of wealth-building opportunities. For instance…
The price trend of crude oil could prompt us to buy stock in an Australian transport company.
Weather patterns in the American Midwest could make me want to short a Russian fertilizer producer.
Changes in the Chinese economy could have us running out to pick up a Brazilian iron ore stock.
It's the "butterfly effect" in action — everything is connected.
Compelling opportunities can emerge in any major financial market… and even some minor ones.
Throughout history the greatest global macro traders have made billions of dollars by trading any asset… in any country… in any direction.
During the financial crisis, John Paulson personally made nearly $4 billion by using credit default swaps to bet against the U.S. subprime mortgage market…
In 2009, David Tepper believed the worst of the financial crisis was over for the U.S. banks. So, he took a big position in bank stocks and made more than $5 billion for himself and his clients as banks recovered…
In 1992, George Soros and Stanley Druckenmiller made more than $1 billion by betting against the British pound…
In 1991, Louis Bacon made an incredible one-year return of 86% by correctly anticipating the effects of the U.S. invasion of Iraq. He went long oil and made more money in one year than most people make in a lifetime…
In 1987, Paul Tudor Jones made an estimated $100 million by anticipating the Black Monday stock market crash and making bearish bets…
In 2000, Sir John Templeton bet on the dot-com bubble bursting and made $80 million. As overpriced tech stocks began plunging, Templeton made a fortune.
And I've used the global macro investing strategy to show my readers how to make 1,712% on Vostok Nafta, 2,888% on Royal Gardens Resort, and 4,114% on Antofagasta.
I think there's room for more names on that list. Maybe yours.
You see, millions of Americans can't afford to retire.
Experts recommend setting aside 10% to 20% of your income for retirement savings. But according to a recent Bankrate survey, 20% of us are saving 5% or less. And 21% of Americans are earmarking nothing – zip – for retirement, emergencies, and other financial goals.
To me, that's just nuts…
But here's the thing: Anyone can learn how to build wealth – and anyone can learn how to turn $25,000 into $250,000.
I'm going to teach you how each and every month right here in Fry's Investment Report.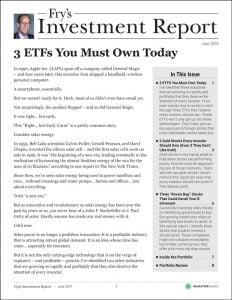 In each issue, I'll not only analyze the global macro environment and share with you the best strategies to make the most of it. I'll also pick the right stocks – and recommend you buy them at the best prices.
Of course, not all my recommendations will work out. That's why I've put together a risk management strategy that will keep our losses in check.
In other words, our losses will be rare and small – and our winners will be huge.
For more on Fry's Investment Report, be sure to check out the Getting Started Guide by clicking here.